Read down to enter our competition to win an InterSoccer Spring Course!
InterSoccer is Switzerland's go-to for boys and/or girls football in Geneva and Vaud. The courses are fun and competitive for 3-13 years olds no matter what the ability. Steve Long, founder of InterSoccer explains, "Our courses and camps are tailored towards providing the perfect mix of fun, making friends, fair-play, and football!"
Girls-Only Courses
Football has traditionally been seen as a sport for boys but gradually this mindset is changing since 2000. It is has been slow but has gathered speed recently with women's football being televised and watched internationally. Stéphanie Frappart set a historic landmark recently as the first woman to referee a men's 2023 World Cup match in an all-female referee team. Women and girls' participation in football is gaining momentum.
Steve tells us, "We're now especially keen on empowering girls through football and breaking down the barriers that can come with it. We have noticed that girls who play football benefit from
increased self-esteem
reduced anxiety
and boosted confidence to achieve their goals
"At InterSoccer, we're proud to offer Girls-Only Courses in a safe and inclusive environment, encouraging girls to get active and join the fun!"
Football Courses & Camps
Not only is football a great way for kids to work on balance and coordination while strengthening their bodies, but it also helps them develop relationships outside the classroom and emphasizes the importance of teamwork. And with InterSoccer's fantastic bilingual coaches, your child will have a blast while learning important skills.
InterSoccer not only offers courses and camps, but also birthday parties can be organized for a really fun event.
Spring Courses and Camps
Spring is here, and InterSoccer has courses running during the week and on weekends in Geneva and Vaud. And don't forget about their free trial sessions: select your favorite course and try it out for free! And if you're looking for something to keep your child entertained during the holidays, InterSoccer's Easter and Summer Camps might be just what you are looking for. The Camps offer great flexibility: join for just one day or the full week.
Geneva: 5 March to 2 July 2023
Sunday Girls Fun Footy (age 5-8)
Stade de Frontenex (Cologny)
9h30-11h
Sunday Girls Fun Footy (age 5-7) & Soccer League (age 8-12)
Stade de Varembé, pitch A or B (Nations)
14h-15h30
Versoix: 5 March to 2 July 2023
Sunday Girls Fun Footy (age 5-7)
Centre Sportif de Versoix (near Coppet)
10h-11h30
Geneva, Etoy, Lausanne, Versoix : 11-14 April 2023
Geneva, Etoy, Lausanne, Nyon: 17-21 April 2023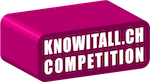 Continuing its long-standing relationship with Know-it-all passport, InterSoccer is kindly offering 1 x Spring Course (value Fr. 400.-) to one of our readers; choose your date from March through June 2023, courses held weekly in Geneva, Versoix, Nyon, Etoy, or Lausanne (see website). The competition prize is valid for a child between the age of 3 to 13 (boy or girl).
To enter the competition, just fill in this
form
and answer this multiple choice question:
What are the 4 "F"s in describing InterSoccer?
Only one entry per person and per email is allowed. The competition closes at midnight on Thursday, 9 March 2023. The names of all those submitting correct answers will be placed into the digital hat and the winner's name drawn at random by Friday, 10 March 2022. No cash equivalent of prizes is permitted. The winner will be notified by email.