From Thursday, 9 June to Sunday, 26 June, the festival 'Pianos égarés' is back in the Geneva communes!
Come and try out one of the 18 self-service pianos available to passers-by in public spaces around Carouge, Chêne-Bourg, Cologny, Geneva, Perly-Certoux, Vernier, Versoix, and Veyrier. These musical moments in the streets and parks create new opportunities to meet and exchange with like-minded people.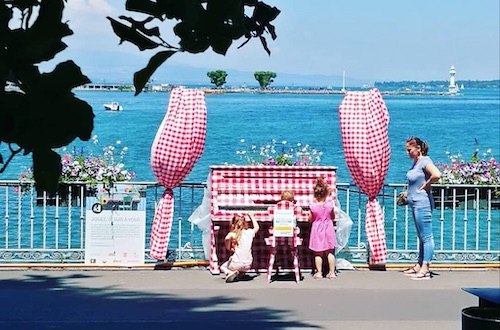 Self-service pianos
Piano Bains des Pâquis
Piano Bel-Air
Piano Bourg-de-Four
Piano à Chêne-Bourg
Piano à Cologny
Piano Jardin Anglais
Piano jet d'eau
Piano Migros Balexert
Piano Migros Vibert
Piano Mont-Blanc
Piano Parc des Bastions
Piano 1 à Perly-Certoux
Piano 2 à Perly-Certoux
Piano place du Rhône
Piano Baby Plage
Piano Vélodrome
Piano à Versoix
Piano à Veyrier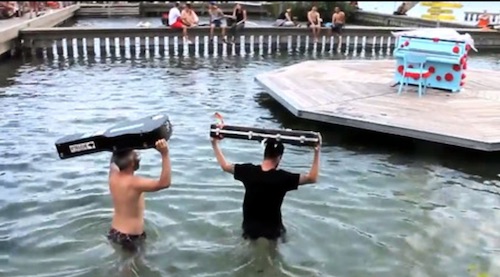 Concerts
A travelling grand piano in unusual places in Carouge, Collonge-Bellerive, Geneva, Lancy, Onex, Thônex ,and Vernier are used for scheduled concerts. With a varied and 100% local programming, the concerts take place outdoors, in places kept secret until the beginning of the concert. From a meeting point, the participants are shown the way by foot to discover a place out of the ordinary! Concerts are free and no reservations are required. You just have to come to the meeting point at the date and time indicated! Duration of each concert is about 45 minutes.
Concert L'Orchestre Spontané
Concert PrismE
Concert Captains Of The Imagination
Concert La Nouvelle Saison
Concert ... Y su Orquesta Trio
Concert Mimoji
Concert Toni Costa
Concert Mael Godinat et Jonas
Concert Hector ou rien
Concert Daniel Leveillé quartet
Concert Noga & Patrick Bebey
Pianos égarés
All around canton of Geneva
9-26 June 2022