Press release June 2021
Geneva Airport's new public terrace is ready! As of Thursday, 24 June 2021, visitors are able to enjoy this space offering a bird's eye view of the tarmac, with the Jura mountain range in the background. Free of charge until the end of 2021, the "Terrasse Panorama" is accessible after passing a security check.
The "Terrasse Panorama" was originally intended to crown the celebrations of the centenary of Geneva Airport in September 2020. Unfortunately, sanitary restrictions linked to the Covid-19 epidemic have postponed its opening by almost a year. It is therefore with pride and relief that Geneva Airport opened its new terrace on Thursday, 24 June 2021.
Free of charge until the end of 2021 and open to the public, it offers an exceptional view of the tarmac six days a week during the high season, with the Jura mountain range in the background. Spotters will be able to observe the runway from end to end while its orientation will allow them to take beautiful pictures. This non-smoking area is located on the 4th floor of the main building and is accessible after passing a specific security check. A refreshment bar is available on site, offering snacks and refreshments. Visitors also have access to a projection room where films about Geneva Airport and its history are shown.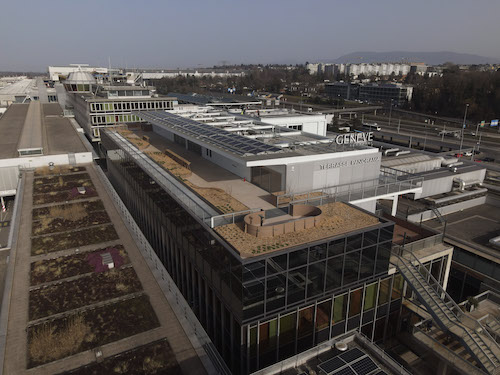 This is not the first public terrace on the airport site. As early as 1925, Geneva Airport set up platforms to allow visitors to admire the planes. These were moved as the buildings were modified architecturally. The most emblematic of these dates back to the construction of the new terminal building in 1968. It then took the form of an esplanade 500 meters long and 4 meters wide overlooking the front positions of the aircraft, just above the tarmac. Over the years, it has become a popular place for the people of Geneva, especially on weekends.
Since the construction of the West Wing in 2000, the airport no longer has a panoramic terrace, much to the displeasure of aviation enthusiasts. In 2017, André Schneider, General Manager, relaunched this project that is very close to his heart. His objective: to re-establish a close link between the population and the airport site and to close the 100th anniversary of Geneva Airport by offering visitors an exceptional view of the runway. "What child doesn't dream of watching the planes up close? I'm delighted that the people of Geneva are getting their terrace back after a 20-year absence," he explains.
Practical information
Access:
Geneva Airport
Elevator on the arrivals level of the main building, 4th floor
Opening hours:
High season (May 1 - October 31): Tuesday through Sunday from 10h-19h (last entry 18h)
Low season (November 1 - March 14): closed
Mid season (March 15 - April 30): Wednesday, Saturday, and Sunday from 11h-17h (last entry at 16h)