It is possible that your next summer vacation will be spent closer to home than you previously thought! We've decided to take a virtual trip around Switzerland to help you get some ideas before you book your next hotel or Airbnb. The second in our series is the Valais region.
We tend to think that Valais is only about skiing, but think again! Valais has a lot more to offer:
Valais Thermal Baths
What better way to ease the mind and body than a soak in bubbling hot water naturally sourced from the beautiful Valais mountains? And what a view as these pools are outdoors! The Valais thermal baths offer rest and relaxation (R&R) for many tourists and Swiss residents alike. The thermal water relaxes muscles, stimulates the circulation, and its mineral content alleviates chronic joint pain.
Valais Wildlife Parks
Wide open spaces, natural habitat, wild and farm animals will make for a fun day out. Have a look to see which one sparks your fancy and book a hotel or Airbnb nearby. You will see cows, goats, ibex, foxes and even black bears living peacefully in their natural environment. While l'Arche des Crétillons and the Aletsch Animal Park are dedicated to farm animals, the zoo at Les Marécottes is home to wild animals, demonstrating the rich diversity of Alpine fauna in Valais.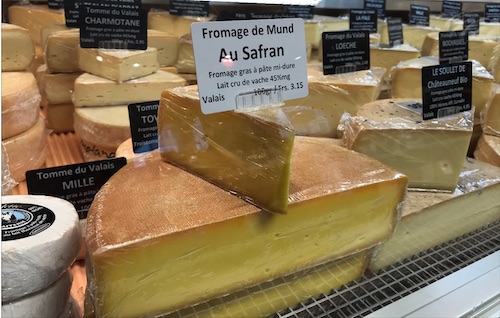 What Sion has to offer
Lisa made a quick overnight trip to visit a high school friend from long ago... The town of Sion, situated in the heart of Valais, is really an amazing city with stunning views from every angle of the beautiful Swiss Alps. The farmer's market has an amazing range of local fruit and veggies to go with your brisolée: a meal consisting of roasted chestnuts served with various side dishes including cheese, dried meats, and autumn fruit. Cheeses bought at the Fromagerie La Grenette (my favorite was infused with saffron from Mund, see photo above), hot chestnuts from the street vendor, viande sêchée, apples, and sliced rainbow beets were our choice!
Make sure to make the trip to the Valais Art Museum, and bathe yourself in the Saviese style art. I hope you enjoy this little souvenir from last October in video form at this link.
The Barryland St Bernard dogs live
What could be cuter than following the antics of the dogs of the Fondation Barry in Martigny? Thanks to a selection of cameras installed in the kennels, you can watch the St Bernards play, eat and sleep. The puppies are incredibly cute and you will certainly enjoy checking in on them from time to time. Click here for the Live-TV webcam of the kennels.
You can also visit the kennels and see all the little puppies just born this spring. Recently reopened with restrictions, daily 10h-18h. www.barryland.ch/en
Valais/Wallis Promotion
Thanks to Valais/Wallis Promotion for sharing some of this information with knowitall.ch readers.
Valais/Wallis Promotion
Rue Pré Fleuri 6
1951 Sion
027 327 35 90
Monday to Thursday 8h-12h and 13h30-17h30, Friday till 17h.