To give you an idea of some of the spectacular places you can visit in this region, we will feature each month a photo of one of its many great locations. Since we rely on recommendations, please send us your special photo taken, for example, on a memorable day out at a water park or from a remarkable viewpoint in the area.
Megève, the heart of the French Alps.
By Mike Beaudet, www.SkiProsMegeve.com
Megève is well known by few and is a jealously guarded secret among those that frequent its ski slopes; Michelin Guide rated hotels and restaurants, high-end shopping stores, Casino and quaint narrow cobbled streets. The village is dominated by the traditional church belfry, and a square all in a pedestrian friendly atmosphere. Horse drawn sleighs carry tourists all over during the peak periods adding a festive and memorable experience for young and old. A truly civilized ski area of real old world charm, with a history that goes back for more than 1000 years. The village still has over 40 working farms from where the milk is used to produce the local cheeses that are known all over the world.
The ski area is laid out in such a way that the summit of Mont Blanc is almost always in view when skiing Megève ski runs. The runs are cut through the trees; a very welcome change to most ski areas in the Alps that are above the "tree line", adding a touch of green to this Haute-Savoyard village! Great skiing for all levels with a particularly pleasing predominance of upper intermediate skiing terrain.
The "Espace Mont Blanc" domain is a whopping 445 Km and with over 111 lifts make Megève and partner ski areas (la Giettaz, Saint Gervais, Saint Nicolas de Veroce, Combloux, les Contamines Montjoie and Cordon) in the top 6 longest skiable areas in France. I often bring clients on a beautiful day to see and ski what I think is the best vantage point to view the French Alps and Mont Blanc.
The most scenic views of Mont Blanc, the highest mountain in Western-Europe, are visible from the top of the "Epaule" chairlift of the Mont Arbois side of the Megève Ski Area. From the top of this chair lift you will want to turn immediately left to stay on the piste, a right turn will take you immediately "off piste"! You should be a good intermediate skier to do this run, in several places it is quite narrow and in whiteout conditions not advised at all. However on a brilliant sunny day you will want to look around you and make a visual picture that even the best of cameras could never capture….the whole of the French Alps in all their beauty right before your eyes! After taking it all in, it is time to ski all the way down to Chatrix, the longest of the runs in the domain.
….But do not tell anyone how nice it is!
Not sure how to get there? If you are driving from Geneva, take the A40 direction Mont Blanc/Chamonix and turn off at Sallanches in the direction of Albertville. After about 17 kilometers you will arrive at Megève.
Author Bio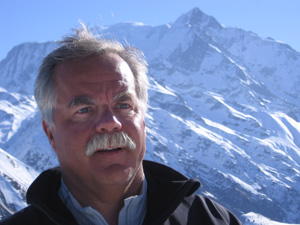 Mike Beaudet is a Colorado native and University of Denver graduate, now living in France with his wife and twin boys Tom and Lucas. Known as "Megève Mike", he is the founder/director of Ski Pros Megeve, the "Affordable Megève English Ski School " in the Village of Megève. A team of elite American, French, and British Independent Ski Instructors and Resort Guides are available to make your skiing holidays the best ever. Day ski tours, private and small group ski lessons for skiing enthusiasts of all levels and ages are available in the French Alps, Italian Alps and Europe.
Contact: Megeve Mike on +33 (0)681610615
Photos from top to bottom:
Off piste skiing in Megève
Image taken from Megève towards Mont Blanc
Mike Beaudet with Mont Blanc in the background, taken from the "Epaule Piste" in the Megève Domaine.
Copyright ©2010 Megeve Mike - All Rights Reserved Worldwide.