To give you an idea of some of the spectacular places you can visit in this region, we will feature each month a photo of one of its many great locations. Since we rely on recommendations, please send us your special photo taken, for example, on a memorable day out at a water park or from a remarkable viewpoint in the area.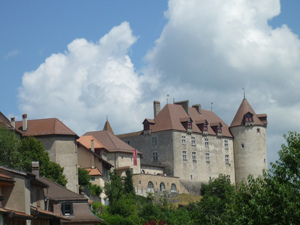 Tourist Office
1663 Gruyères
0848 424 424
www.gruyeres.ch
www.la-gruyere.ch
www.moleson.ch
www.fribourgregion.ch
Directions: A1 autoroute past Lausanne, follow signs towards Grand St-Bernard onto the A12. Exit Bulle. Follow signs to Château d'Oex and Gruyère. 
1½ hours from Geneva.
Gruyère is a pedestrian town amidst picturesque Swiss countryside. Kids will enjoy playing in the small park on the back side of the hill behind the church or exploring the castle. NOTE: A great place for a fondue (We recommend the Restaurant La Fleur de Lys).
Chateau de Gruyere
The castle, built in the XIII century, sheltered a long succession of counts de Gruyères. Michel, the last among them, faced financial problems and announced bankruptcy in 1554.
Open April to October 9h-18h and November to March 10h-16h30. Price; Fr. 9.50/adult, Fr. 3.-/child age 6-16, combined ticket with the Cheese Museum is Fr. 13.50/adult.


Cheese museum
La Maison de Gruyère
1663 Pringy-Gruyère
026 921 84 00
www.lamaisondugruyere.ch
It's fun to see how the famous Gruyère cheese is made from 9h-11h and 12h30-14h30. Factory is open from 9h-18h and till 19h from June through September.
Price: Fr. 7.-/adult, Fr. 12.-/family, combined ticket with the Château is Fr. 13.50/adult. Restaurant on premises.