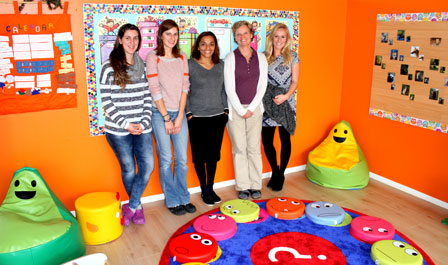 The St-Légier-based, family-run Haut-Lac International Bilingual School has just opened a bilingual (French/English) nursery close to the lakeside in the Rue du Nord, Vevey.
Going under the name of "Les Marronniers - La Crèche Haut-Lac", the nursery welcomes toddlers aged from 18 months to 3 years. It is based on the same child-centred philosophy as the other sections (infant, primary and secondary) of the Haut-Lac school, which has been in operation for over 20 years. With the opening of this additional section, Haut-Lac offers parents the possibility to choose a fully bilingual education for children aged from 18 months to 18 years within the same establishment.
At the "Les Marronniers - La Crèche Haut-Lac", a professional, friendly, and talented team of educators has been put in place to welcome up to 30 full time children.  Their daily bilingual approach (French/English), using the "one person/one language" concept, allows each child to learn, use and develop both languages. Children socialise with each other while playing together, singing songs, and being creative in arts and crafts, as well as during lunch and snack times. A secure playground allows for stimulating outdoor play and children are also taken for strolls by the teaching assistants each day.
A theme-based programme linked to activities such as storytelling, handicrafts and outings reinforces the children's acquisition of vocabulary and language learning. A strength of the nursery lies in the encouragement of personal growth. Children are guided to develop at their own pace, undertaking activities appropriate to their individual rhythm and readiness for new experiences, and giving them a chance to learn by discovery.
The Administrative Director, Annika Woehr is enthusiastic about this new initiative. "It is wonderful to be working with a great team and welcoming a variety of children to the "Les Marronniers - La Crèche Haut-Lac". We have some exciting plans for 2015!". Being multi-lingual herself, Annika has a great deal of experience working in nurseries within Switzerland and further afield, and was eager to take up the challenge of her new position.
With the launch of its new crèche, Haut-Lac has responded to an increasing need for nursery places in the local area, where spaces are typically difficult to obtain, with parents needing to book in at least a year in advance. "Les Marronniers - La Crèche Haut-Lac" is open each day from 7h00 to 18h30.
Haut-Lac Bilingual International School
www.haut-lac.ch
Crèche
Campus Les Marronniers
Rue du Nord, 3-5 CH - 1800 Vevey
021 555 50 80
www.haut-lac-creche.ch
Infant - Primary
Campus Praz Dagoud
Ch. de Pangires 26 CH - 1806 St-Légier-la Chiésaz
021 555 50 40
Secondary
Campus Roches Grises
Route du Tirage, 14 CH - 1806 St-Légier-la Chiésaz
021 555 50 60