If you're a woman working in the field of digital technology, it can sometimes feel like you are working alone in a male-dominated industry. As technology advances at an ever-increasing rate, there is a real need to keep up with the latest trends by meeting other digital professionals facing the same challenges - but the opportunities have not always been there, at least not until the association Women in Digital Switzerland was launched!
Recognising the need to help women working in roles that require up-to-date knowledge of the latest digital trends, Digital Transformation Specialist, Taïssa Charlier, created a special group on LinkedIn back in 2013 to help them connect and share ideas. The group became so popular with women living and working in Switzerland that Taïssa decided to create a special association 3 years later – Women in Digital Switzerland (WDS) - with fellow digital specialists, Kelly Hungerford and Natacha Gajdoczki.
The role of Women in Digital Switzerland
Kelly told us, "Our goal was simple: to build a community of women working in digital across Switzerland, and organize events for them so that they can meet and network, share knowledge through discussions and presentations, and inspire or be inspired by others."
The natural outcome of the association being formed has been the creation of a Swiss competency center for women working in digital roles, who are now being increasingly called upon to speak at special digital events and take up positions of leadership within companies.

Regular MeetUps
One of the main reasons that the association has been so successful, especially in the key local cities of Geneva and Lausanne, has been the creation of regular MeetUps. Casual in nature, these events are usually free to attend: participants are simply asked to bring something along to drink and eat.
In Geneva, the events are held on the 3rd Tuesday of each month, and in Lausanne they take place on the 4th Wednesday of the month. A quick glance at the last 2 year's events on the WDS Geneva MeetUp page will give you some idea of both the breadth and depth of topics that have been covered and are likely to be covered again in the future: digital governance; community management; website creation; virtual reality in journalism; content marketing; digital auditing; content creation; online video presenting; talking to Techies; personal online presence; podcasting; and artificial intelligence.
For those who live further afield, there are also regular WDS Meetups in Basel, Zurich, St. Gallen and Zug.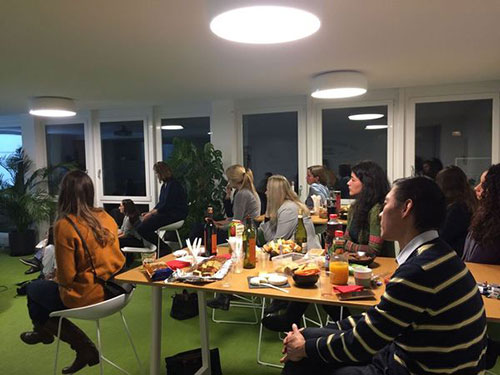 Membership benefits
Whilst attendance at WDS meetings is typically free of charge to everyone – men as well as women - there are some advantages to becoming a paid-up member of the association.
For just Fr. 60.- per year, you can have your own professional profile on the Women in Digital Switzerland website, discounts on local and regional events when available, shout-outs over social media, and the opportunity to post articles as a guest blogger on the WDS blog. More importantly, you have the chance to be part of a growing network that supports women across Switzerland, with all the benefits that networking can offer you.
There are many other ways that you can get involved in the association, either as a sponsor or volunteer, or as an expert speaker at one of their events. To find out more, please email This email address is being protected from spambots. You need JavaScript enabled to view it..
But if you just want to keep track of their events, the best way is to visit the WDS home page, where you will see upcoming meetings listed. Alternatively, you can visit their MeetUp page and select your nearest location to see a list of the topics to be covered throughout the year. Some of the cities like Lausanne have not posted their 2018 schedule yet, so do check back regularly to make sure you have the latest information.
To view more details on each event, just click on the link which will take you to the MeetUp website for each location, where you can request to join an event.
Women in Digital Switzerland
This email address is being protected from spambots. You need JavaScript enabled to view it.
https://www.womenindigitalswitzerland.com
Next MeetUp in Lausanne
28 February 2018: Exploring the World of Information & Communication Technology
Click here for more information.