Enter our competition to win free tickets for A Theatrical Mistressclass on a Midsummer Night's Dream

The Lausanne Shakespeare Festival (LSF) is returning this June with a great line-up of plays and workshops, many of which are in English.
Taking place between 1 and 3 June, this year's festival will once again be based in the Théâtre La Grange de Dorigny, a unique performing arts center based on the University of Lausanne campus.
Following the format of previous years, LSF 2018 will combine full-length plays in the evenings with workshops, a film, street theater, and a range of experimental performances during the day. Like Lausanne itself, the LSF is fundamentally cosmopolitan, bringing together artists and audience members from a variety of linguistic backgrounds and featuring events in both French and English.

Photo © Vincent Laughery
Anglophone Shakespeare lovers will be especially pleased to see that this year's festival will include 6 key events in English, namely:
THE TRAGEDY OF HAMLET, Cie Ellis Bell
Friday 1 June, 19h00 / theater /English (srt. french) / 1h45 / + 13 y.o. / CHF 10
A THEATRICAL MISTRESSCLASS ON A MIDSUMMER NIGHT'S DREAM, Sun & Moon Company
Saturday 2 June, 11h00 / participatory theater / French and English / 1h45 / + 11 y.o. / CHF 10
JUDITH & HAMNET, Will & Compagnie
Saturday 2 June, 15h30 / performance / English / 30 mins / all ages / free entry
EMBODYING SHAKESPEARE, Victoria Baumgartner (Will & Compagnie)
Sunday 3 June, 09h00 / workshop / English / 4hrs / + 15 y.o. / free entry
INVASIONS: PREPARATIONS FOR A MULTILINGUAL SHAKESPEARE, Swiss Stage Bards
Sunday 3 June, 13h30 /performance and workshop /French, English, German, Italian / 1h / + 10 y.o. / free entry
LASCIVIOUS GRACE, Nadia Cavelle
Sunday 3 June, 17h00 / film + Q&A / English (srt. French) / 20 + 40 mins / + 15 y.o. / free entry
You can view the full program of events at this link: https://lausanneshakes.com/en/2018-program/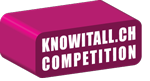 For this year's festival, the organizers have kindly donated 2 double tickets to knowitall.ch for their participatory theater event entitled A Theatrical Mistressclass on a Midsummer Night's Dream. Organized by the Sun & Moon Company, this event with take place at 11h on Saturday 2 June 2018 and be hosted in both English and French. To give yourself a chance of winning one of these double tickets, just fill in this form and let us know the name of the free workshop that Victoria Baumgartner will be running in English on Sunday 3 June (tickets still available!)
Only one entry per person and per email is allowed. The competition closes at midnight on Wednesday, 30 May 2018. The names of all those submitting correct answers will be placed into the digital hat and the winners' names drawn at random on Thursday, 31 May 2018. The first 2 names to be drawn will each receive a double ticket for the event. The winners will be notified by email and their names will be added to this article after the competition closes.
Lausanne Shakespeare Festival
1 - 3 June 2018
Théâtre La Grange de Dorigny
University of Lausanne campus
https://lausanneshakes.com/en/home/
Congratulations to the following winners who have each won a double ticket to attend A Theatrical Mistressclass on a Midsummer Night's Dream:
Olimpia Czarnecka
Magnolia Uy
Save
Save
Save
Save
Save
Save
Save
Save
Save