Enter our competition and win a double ticket for the opening night performance on Friday 27 August 2017!
What a great way to end the summer holidays with a trip to the theater to see an uplifting performance of a classic feel-good musical!
From 27 to 29 August, the GAOS Youth Group will perform the award-winning musical, Legally Blonde, at the Casino Theatre in Geneva!
Based on the hit 2001 film starring Reese Witherspoon, this bright and colourful musical with a memorable score and inspiring roles for young women, was hugely successful both on Broadway and the West End, and won the 2011 Laurence Olivier Award for Best New Musical.
Directed by Ylan Assefy, this GAOS rendition of Legally Blonde: The Musical tells the story of Elle Woods, a charming and lovable young sorority girl, who enrols at Harvard Law School to win back a former beau. But law school is no joyride — she is thrown out of class and her boyfriend proposes to another girl! It seems nobody has any faith her!
However, Elle decides to show everyone that she is more than just a pretty face. It turns out she has more legal savvy than anyone ever imagined and, through perseverance and self-belief, she finds unexpected success. Astonishing the faculty with her unabashed audacity, she gradually wins the respect and admiration of all those around her.
With ticket prices starting at just Fr. 19, come and see for yourself what happens when Elle goes on to defend a falsely accused woman in a murder trial!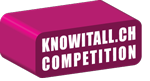 Thanks to GAOS, knowitall.ch readers have been given the opportunity to win a double ticket for the opening night performance of the show on Friday 27 August. To enter our competition, just fill in this form and let us know who will be directing the GAOS rendition of Legally Blonde: The Musical.
Only one entry per person and per email is allowed. The competition closes at midnight on Wednesday, 16 August 2017. The names of all those submitting correct answers will be placed into the digital hat and the winner's name drawn at random on Thursday, 17 August 2017. The first name to be drawn will receive a double ticket for the show. The winner will be notified by email and his/her name will be added to this article after the competition closes.
Legally Blonde: The Musical
Performed by GAOS Youth Group
www.gaos.ch
Casino Theatre
Rue de Carouge 42
1205 Geneva
25 August 2017 at 20h
26 August 2017 at 15h and 20h
27 August 2017 at 15h
Tickets:
Fr. 19.-; Fr. 29.-; Fr. 39.- and Fr. 49.- (Fr. 49.- ticket includes free programme, fan and drinks voucher)
Available online from www.theatreinenglish.ch
Telephone bookings on 022 575 25 82 from Monday 21 to Thursday 24 August, 2017, between 16h30 and 17h30
CONGRATULATIONS TO THE WINNER OF THE COMPETITION: Michelle Lemoult
Save
Save
Save
Save