By Sunita Sehmi, Walk The Talk
Céline Le Roux Schaer discovered Ashtanga yoga during a stay of several months in India in 2007. This practice seduces her as much in the exploration of the relation to the body as in its philosophical and spiritual dimension. Beyond physical practice, yoga is therefore a way for her to know herself and the world around us. These different approaches complement each other and nourish her evolving practice, with every experience on the carpet or in life being an opportunity to learn and make her way on the path of yoga. She finds inspiration in everyday life, in contact with nature, with her children, and in workshops with teachers. In her teaching, she emphasizes the development of self-awareness, emphasizing in particular the fundamental role of breathing. One of her goals is to help students take ownership of their practice and evolve in the way that best suits everyone. There is not preaching or teaching with Céline just love, kindness and compassion.
I had the great opportunity to attend her classes and meet her. I hope you enjoy the interview!
How did you get to where you are today?
I like to see life as a process, everything being in movement, nothing is ever completely still. I would say that this journey, paved with encounters, travels, teachings, joy but also chaos and pain, love, work and of course my family, made me who I am today and influenced highly what I do. I have always tried to follow my heart and my passion, believing deeply that doing this, I would wake up every day ready to do something meaningful that will hopefully also pay my bills. And this is where I am today.
Why did you get into Yoga?
I got into yoga mostly by chance. In 2007 I was practicing a martial art in Geneva, Viet vo Dao, quite intensively. As I left for a 5 months internship in India, I was worried that I would lose my practice. Next to my place were yoga classes and I started practicing to stay in good shape. I went to classes every day and after a few weeks started practicing alone. With the practice something happened, a feeling that there was something deeper than the physical aspect, something that felt so right for me that I kept diving into it. And since then I never stopped.
What is EKA about?
EKA is about creating a space but also a community to share yoga in its various forms, cultural and creative activities. The philosophy is to offer activities that will encourage adults but also children to explore their relationship to the world around them but also to themselves, developing creativity, curiosity, in a playful way, respectful for the environment, nature around us and also our own nature.
Describe a difficult challenge in your life and how you got over it?
A challenge that is still not completely dealt with is finding a balance between my work for EKA, my other job as a social worker, and my family, especially since I have two young children. For me it is not so much about getting over it, again it's about a process: thinking about what my priority in life at some point is, accepting that I cannot be 100% in everything, learning to let go! And also cultivating humility. Some days are easier, some days are harder, but at the end I remember to feel grateful for all that I have in my life.
In your opinion why are people finding it hard to balance work and life?
I cannot talk for other people. I only know why it is sometimes hard for me. And it gets harder when my work starts to lose meaning. When my job is meaningful then it is as it should be: part of my life and nourishing it. I don't want to have to wait until I'm out of work to start living. I want to live every second of the day.
All the literature tells us to communicate with more compassion and more empathy but how can we practice that?
I believe compassion and empathy for others will come from the heart when you feel balanced and compassionate for yourself first. This cannot be faked. The practice is different for everyone. Each person has to find its own way, a way that might also be different from one time in life to the other. There are many approaches, philosophy, techniques, but also some creative activities, sports... There is not a single answer and most importantly I believe that everyone should find his/her own path.
Could you share some of your strategies that we could use to keep more balanced?
For me yoga is a beautiful practice. The physical practice but also the philosophy, the pranayama (breath exercises) and the meditation. But at the end what I try to practice as much as I can is being in the present moment, it might be through a flow of asanas (physical postures) or by cooking! Nowadays it is often by looking at how my children approach life. They are beautiful teachers. It is also by cultivating a closer contact with nature.
What is the best piece of advice you were ever given?
Listen.
What's the next challenge for you?
I guess that balancing my work and my family life, trying to find somewhere time for myself is an everyday challenge! The others will come in time...
What's next for you?
I've started a new training for my job as a social worker and that's very exciting. I am also preparing some activities to celebrate EKA's 5th anniversary next autumn. And for the rest, who knows... Life is full of surprises!
For more information about EKA please contact
Céline Le Roux Schaer
This email address is being protected from spambots. You need JavaScript enabled to view it.
www.espace-eka.ch
Sunita's Bio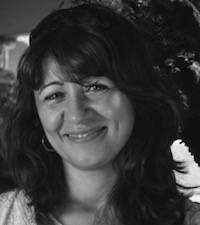 Sunita is an Executive Coach, Trainer and Consultant. She is of Indian origin and was born in London before moving to Geneva in 1992. She has a Psychology background (specialising in Occupational Psychology) and a Post Graduate in the Development and Training of Adults. She also completed a Masters in Ressources Humaines, Coaching et Gestion des Carrières at the University of Geneva.
During her 25 years experience Sunita's drive has always been to help people to do their best and hence led her to create Walk The Talk.
In her free time Sunita is a Mentor for the Branson Center of Entrepreneurship and a proud member of the School in The Cloud Team.
Save
Save
Save
Save
Save
Save
Save
Save
Save
Save
Save
Save
Save
Save
Save
Save
Save
Save
Save
Save
Save
Save
Save
Save
Save
Save
Save
Save
Save
Save
Save
Save
Save
Save
Save
Save
Save
Save
Save
Save
Save
Save
Save
Save
Save
Save
Save
Save
Save
Save
Save
Save
Save
Save
Save
Save
Save
Save
Save
Save
Save
Save
Save
Save
Save
Save
Save
Save
Save
Save
Save
Save
Save
Save
Save
Save
Save
Save
Save
Save
Save
Save
Save
Save
Save
Save
Save
Save
Save
Save
Save