By Sunita Sehmi, Walk The Talk
Scott Robinson, the 'yogibanker', was born in a yoga studio in Notting Hill in April, 2012, in preparation for his first career change while on a 15-year working holiday to the UK. The idea of 'managing stress' seemed too good to refuse. It took a while until yoga became part of his regular routine.
Here he shares his thoughts, vison and mission on how to bring back balance and harmony in your life.
I hope you enjoy this deeply captivating interview as much as I did.
Tell us a little about yourself
I'm 39 years old, originally from Sydney, Australia and have been living mainly in the UK for the last 15 years. I'm a qualified Australian lawyer, principally in derivatives and structured products but am now working in a regulatory advisory role at Deutsche Bank, specialising in regulatory capital.
I came to the UK in 2001, originally on a 'working holiday', solely armed with a law degree from the University of Sydney. During my time in the UK, I have worked for large international law firms and investment banks, including a short stint in New York, where I witnessed first hand the global financial crisis unraveling itself in such devastating fashion. It was fascinating. In my current regulatory advisory role, I am leading a small team focusing on regulatory capital and its application to structured and complex financial transactions. Its quasi legal, quasi risk, I guess you could call it a hybrid role, although it sits within the Finance division of the bank.
Whilst working in professional services, at the same time I have always been interested in deeply spiritual and holistic practices. Yoga, Pilates, meditation, reiki, even acupuncture… I am always amazed when people discuss such practices in isolation from the corporate world, as if they are two extremes. For me, they are a very powerful combination when applied together, often resulting in synergies which are not apparent on the outside. I like to think of it as optimising your performance in the workplace, using very traditional and often ancient practices.
How did you end up in banking?
I ended up in banking as part of a secondment to Citigroup, during my early years as a junior lawyer. I loved the commercial environment, the dynamic nature of the bank, the people and the multitude of moving parts that makes working in banking so fascinating. Whilst I have spent time in law firms, I always knew that I wanted to work 'in-house' at a large international investment bank.
"To have external peace, you need to have internal peace".
What got you into yoga?
Initially, it was a suggestion by a friend that it might be 'good for me' before I started the new role at Deutsche Bank. You know, 'stress relief', 'flexibility' and all the usual norms associated with the physical yoga practice. However, it wasn't until I went on my first yoga retreat over Christmas in 2012 at Suryalila retreat centre, an olive farm converted into a world-class retreat centre in Andalusia, southern Spain, that things really shifted. Here, I met the inspirational Vidya Heisel, who introduced us to a multitude of different practices and styles, including the most wonderful yoga nidra on Christmas day. From that point on, I became curious and more dedicated with my practice.
"Every morning, as I put on my suit after my daily session of yoga and meditation, I know that I am putting on my armor, ready to be the 'warrior' (like the yoga pose) and roam the floors of the bank as a yogi in disguise".
Could you tell us more about your mission?
My mission is twofold: Firstly, I wish to share the benefits of yoga and other holistic practices with the rest of the corporate world, especially with men. These practices have helped me so much get through intense times, that without them, I'm not sure where I would be. Not only have they helped me get through tough times, I have found that they have enhanced and optimised my working abilities. I wish to share with everyone what I have learnt and how it has made me a stronger performer at the bank.
Secondly, the reputation of those who work in banking has been severely affected since the financial crisis. Unfortunately, the deeds of some have affected the 'silent majority' of those who are hard working and just getting along, doing their job to the best of their ability. I wish to show another side to us, a more compassionate, sensitive and ultimately human side to the modern face of those who work in banking. I have met so many similar people over the years at classes, workshops and retreats, that I am convinced that we need a voice to cast us in a different light.
What is the best piece of advice you ever got?
You know that a piece of advice is special when you hear it from two spiritually enlightened people. When I came to see my meditation teacher and therapist last year, Maggie Richards, her honest heartfelt advice was: "to have external peace, you need to have internal peace". You do that through the practice of meditation. I then heard the same advice this year from another special person, Satish Kumar, on a retreat called 'Nourishing the Soul', where he repeated the same advice. It is a daily reminder to me that with dedication and commitment, you can make a difference and change things, simply by sitting still, being quiet and meditating. If the ultimate goal of yoga is to prepare the body for meditation, then I know that I am on the right path….
How do you see the banking industry going in the future?
The banking industry is going through a very difficult time at the moment. An increased regulatory burden forcing banks to reconsider existing business models, reduced margins in a low interest rate environment and a challenging economic outlook mean that the future is somewhat uncertain. This is coupled with the rise of 'fintech' and block chain technology, meaning that services which were previously labor-intensive and operationally complex will become simplified and automated, with a direct effect upon people working in banking as well as the way transactions are carried out. It will be very interesting times indeed.
What's next for you?
At the moment, I am exploring ideas about how I can further develop my blog, and share with everyone what I have learnt and the difference it has made to my life. People in the yoga and wellness community are so open to cooperating and to helping each other, it is really great. For the time being, I really love writing, a passion I only recently discovered. It is so liberating to be able to write and express how you feel about a particular topic or situation. We all have internal dialogue going on in our minds, for me it's lovely to find a means of being able to put all that down in writing. Watch this space.
What next for us?
So, I would say that the next challenge for us, as a society is to learn to be more tolerant, less divisive and reject the politics of hate, violence and populism! The neoliberal project that we saw since the turn of the century has been well and truly buried by the impact of the global financial crisis and the politics of austerity and has only served to increase inequality of wealth throughout the world.
Globalisation and the impact of mass immigration around the world has left many feeling frustrated and insecure. As a result, we are seeing movements rejecting the status quo (i.e. the Brexit vote, Sanders, Trump etc...). At the same time, we need the world to join forces - to reject religious extremism, and work towards a better world, as well as tackle climate change, together.
Reference:
Website: https://yogibanker.com/
To contact yogibanker please email him at This email address is being protected from spambots. You need JavaScript enabled to view it.
Sunita's Bio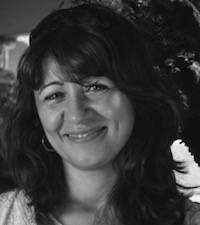 Sunita is an Executive Coach, Trainer and Consultant. She is of Indian origin and was born in London before moving to Geneva in 1992. She has a Psychology background (specialising in Occupational Psychology) and a Post Graduate in the Development and Training of Adults. She also completed a Masters in Ressources Humaines, Coaching et Gestion des Carrières at the University of Geneva.
During her 25 years experience Sunita's drive has always been to help people to do their best and hence led her to create Walk The Talk.
In her free time Sunita is a Mentor for the Branson Center of Entrepreneurship and a proud member of the School in The Cloud Team.
Save
Save
Save
Save
Save
Save
Save
Save
Save
Save
Save
Save