By Aurea Fagel, text and photos
Three things come to my mind when autumn is here: the colorful leaves, "la chasse" or game meat and wine tasting!
Autumn Leaves
Where to witness the grandeur of the autumn leaves? Switzerland has definitely a handful of beautiful places if the weather ensures the leaves wither gracefully. Photographers and nature lovers go in search for that perfect spot.
The Arboretum in Aubonne is one such place to see a display and reflection of colorful trees. This national park has been in existence since 1968 and houses a variety of plants, flowers and trees. Being a photographer myself I have been going there many times to shoot autumn. The place has lots of short and long trails for everyone and holds events all-year. This coming Oct 18 and 25, there will be a guided tour of the Japanese forest and the colorful autumn trees respectively! So mark your calendars and allot at least half a day.
Another great spot is the Ballenberg in Brienz, central Switzerland. It is the largest open-air museum in Switzerland which showcase Swiss traditional homes and handicrafts. Autumn is a good time to visit if only for the colorful leaves. Best to wear your hiking boots or comfy shoes as it will involve a lot of walking!
Game Meat
"La chasse" season is here for the meat lovers and curious gourmands. It usually runs till early November. Best time to taste deer, wild boar, venison or pheasant with popular garnishing of spätzli, red cabbage, poached pears, chestnuts, brussel sprouts and red currant. A few suggestions where to go in canton Geneva and neighboring areas below, bon appetit! Even with the restaurants closed for in-house seating, many are being very creative with a take-out or delivery service.
1. La Tables des Roys, Geneva – customized menus of 2/3/4 dishes, Michelin guide 2020, must reserve.
2. Restaurant du Chasseur, Allaman –special game menu, also serves steak, contemporary ambiance.
3. Balthasar Restaurant & Grill, Gland - Grilled game and steak, chic ambiance, superb staff and service.
4. Auberge de Chouilly, Satigny – slow food traditional game, warm ambiance, vineyard nearby.
Wine Tasting
One of the famous places for wine tasting is at the UNESCO heritage Lavaux vineyards in canton Vaud. During this time, it also magically transforms into a living artwork in shimmering hues of gold, orange and yellow (another good place for autumn leaves!) The Swiss-producing regions like Geneva, Vaud and Valais hold wine festivals and degustation honoring the historic tradition of grape harvest or "Fetes de Vendanges". In canton Geneva, they have the popular annual Fête de la Saint-Martin in Peissy, Satigny (to be held Nov 7 2020, 10am-6pm) and Fête des Vendanges de Russins (cancelled for this year and moved to Sept 18-19 2021). In canton Vaud, they are now hosting a "Caves Ouvertes à la Carte". For Fr. 30.-, you receive your wine pass and wine glass to use for the degustation, then you simply reserve online a wine cellar to visit and on the day itself you will have an hour of wine tasting!
For a year-round chance to try as well as buy some wines, the Movenpick Wine Cellar holds daily tasting free of charge and regular wine-tasting events in all their 17 stores in Switzerland.
In general, the Swiss love their wines so much there is not enough wine even for the locals! Switzerland ranks among top 10 per capita consumption of wine. And did you know…
In Valais, they used to bury their dead along with wine?
In Lavaux, the grapes have 3 main sources of heat? The sun, the heat emitted from the walled terraces and the light reflected off the lake
Who owns the smallest vineyard in the world? The Dalai Lama. The Vineyard of Saillon is located somewhere in Valais Switzerland.
Have a golden Swiss season!
Author bio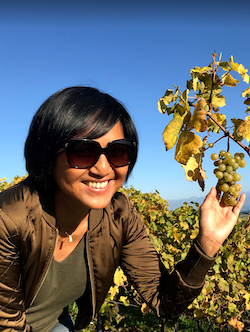 Aurea Fagel - A keen photographer and former expat who loves to travel, discover food, wine and cultures, does a bit of feng shui & home design and plays Scrabble & Gateball. She has been living in Switzerland since 2000 and would like to share her experiences, photos and perspectives on all of the above! Her blog caters to Swiss locals.
Email: This email address is being protected from spambots. You need JavaScript enabled to view it.