Since living in Switzerland, I have acquired a taste for mountains that I could never have foreseen. Snow-shoeing has become a true passion, if not an obsession, and a regular winter activity. But what I have really discovered and experienced is the energising power that these majestic peaks deliver, not only in winter but in the summer months too.
Yesterday, we took our final cable-car trip, as Swiss residents, to an altitude of 2,971m and spent a rejuvenating afternoon at Glacier 3000. I don't need to remind you all how stressful relocating to another country can be, therefore, taking some time out to re-energise was a must in our schedule.
The cable-car journey to Scex Rouge (Glacier 3000) is in two stages, starting at Col du Pillon, just on the edge of Les Diablerets, about a 1-hour drive from Lausanne. There is plenty of free parking available. The return ticket costs CHF 79 for adults and CHF 40 for children or adults with a half- price travel card. It includes the Peak Walk by Tissot, a Fun Park for children, the Ice Express chair lift to and from the Glacier and the Glacier Walk. The ascent takes about 15 minutes.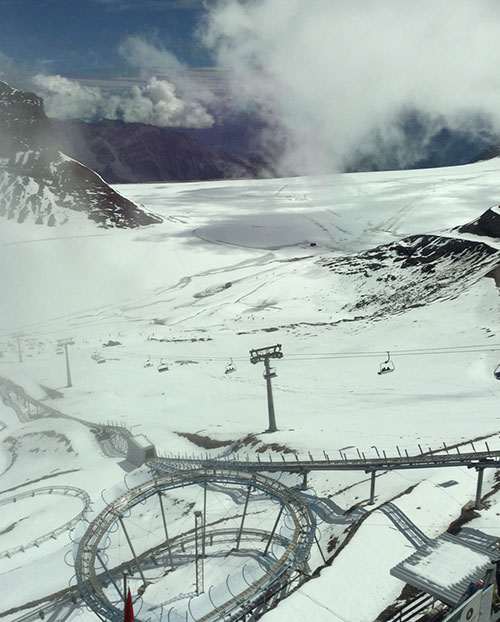 The Peak Walk was our first port of call. It is the only suspension bridge that connects two mountain peaks. The 107m long and 80 cm wide structure offers amazing views. It can, however, be a little busy, and visibility changes by the minute if some cloud and wind is present, so you may need to be quick with the camera!
For those with limited mobility or who simply don't fancy walking, there is a snow bus which can take you on a tour along the Glacier Walk route. Dogsleigh rides can also be arranged for a fee and by booking in advance with the Swiss Mushing Company (details on the Glacier 3000 website). Other facilities include a souvenir shop, restaurant and picnic areas.
The highlight of my visit has to be the Alpine Coaster, where you control the speed of your individual toboggan, and the associated adrenaline rush, on winding metal tracks. This is the world's highest toboggan run and a must for all ages. It isn't included in the ticket price. The additional cost is CHF 9 per ride per person.
This was actually our 3rd attempt to visit Glacier 3000. The first time we booked a little chalet in Les Diablerets during the October school holiday, only to discover that Glacier 3000 was closed for annual maintenance during this period. The exact closure dates vary slightly from year to year, but are always in October. They are usually published in advance on the Glacier 3000 website.
Our second attempt was a beautiful day in March. There was still snow at the lower altitudes and the sky was blue. Ideal conditions...except for the fact that at 3,000m there was apparently too much wind, so the cable-car was unable to operate. Luckily, we were able to do some snow- shoeing at Col du Pillon and have a snow-picnic.
So, finally, after telephoning to ensure that the cable-car was functioning, we made it, just 3 days before we leave Switzerland and relinquish our home in Morges.
To conclude my last leisure blog from Switzerland, which I write while the removal company is wrapping and packing around me, let me leave you with my top 3 recommendations for summer mountain visits:
3rd - Glacier 3000 (https://www.glacier3000.ch/en)
2nd - Jungfraujoch (https://www.jungfrau.ch/en-gb/jungfraujoch-top-of-europe/ )
1st - Gornergrat: an overnight half-board stay in the Gornergrat Kulm hotel is an unforgettable experience.(http://gornergrat-kulm.ch/?lang=en)
Author's bio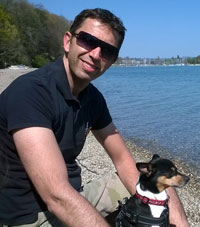 Dean Marriott was born in London and educated in the UK and Germany. He retired from a career in finance, aged 33, and subsequently retrained as an actor and teacher. From an early age, his passion for languages and the arts has underpinned both his professional and social lives. In his quest for leisure activities, Dean keeps one key thought in mind: if Shakespeare's words are true and 'All the world's a stage', we shouldn't have to look far in order to be entertained. We just have to make the time to appreciate it.
If you are searching for an element of entertainment in your leisure pursuits and have a desire to look beyond the obvious, then Dean will use his artistic eye to point you in the right direction.
Dean works in Switzerland as an actor, voice-over artist, and onscreen presenter. He also teaches theatre, improvisation and film-making at La Chataigneraie, Ecolint, as part of their ECA programme.
Save
Save
Save
Save
Save