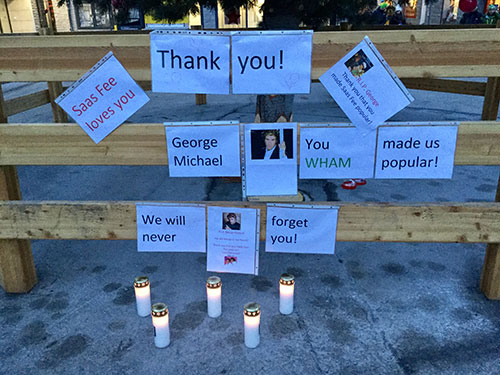 Having booked our Christmas holiday to Saas-Fee in July 2016 with the knowledge that it was probably our last Christmas in Switzerland, we had no idea that it would prove to be such a poignant visit.
Looking back over 2016, we can't help but find ourselves reflecting on the many celebrities who passed away. The death of George Michael on Christmas Day was one of these sad moments. It was only upon arriving in Saas-Fee on the morning of 26th December that I heard the news. It soon became apparent that Saas-Fee had a strong connection with the singer, and after a quick internet search I discovered that the music video for Wham's 'Last Christmas' had been filmed there back in December 1984.
Originally planned to be shot in the Canton of Bern, a last-minute change of location occurred due to a lack of snow, and Saas-Fee became the new setting. In case you are curious, the group and crew stayed at the 5-star Hotel Walliserhof, now renamed the Hotel Ferienart. Another piece of trivia is that the well-known scene in front of the open fireplace was actually shot in the current culture centre, rather than the chalet shown in the video.
With this knowledge in mind, and having watched the video again, our stay in Saas-Fee took on a new meaning. Although I cannot claim to have been a huge Wham or George Michael fan, I cannot escape the fact that they were a constant part of my teenage years, and thus, were indeed a part of my life that had come to an end.
Nonetheless, there were no dark clouds in Saas-Fee. The sun shone constantly. Saas-Fee is car free, but has plenty of electric taxis whizzing up and down the streets. Although it is possible to arrive by car and park it on the outskirts of the town, we decided to use public transport. We arrived by PostAuto bus from Visp, having taken the train from home in Morges. Our hotel arranged for a courtesy taxi to collect us from the bus station and transfer us to the hotel.
We stayed in the centrally-located Hotel du Glacier, a 3-star hotel which accepted our dogs. It is part of the Dom Group of hotels, and has a sister 4-star hotel also in Saas-Fee. We were more than happy with the accommodation, which was incredibly spacious and had a sun-drenched balcony over-looking the mountains. This was without doubt the best 3-star hotel we have ever stayed in. The wellness area with wet room, sauna and jacuzzis was an added bonus.
There was very little snow in Saas-Fee itself, so it was necessary to take a cable car to a higher altitude to really appreciate this winter wonderland in its full glory. The first cable car route that we took was up to Felskinn (3000m). There are two routes to get there. The Alpin Express often has the longest queues as the transfer buses bring day skiers here. The alternative departure point, as was recommended to us by the lady in the ticket office at the Alpin Express, is next to the ice-rink, a 5-minute walk away. Following her advice saved us at least an hour of queuing time. Don't forget your Half-Fare Swiss travel card, as this also gives you a 50% discount on the cable cars.
From Felskinn, in order to reach Mittelallalin at an altitude of 3500m, it is necessary to take the 'metro'. In fact, this is the highest underground funicular in the world and takes little more than 4 minutes to complete the journey.
Mittelallalin boasts the highest revolving restaurant in the world. It is certainly worth a visit. Although reservation is indeed possible, and recommended if only here for a quick visit, there are limited unreserved tables available on a first-come, first-served basis, as well as the possibility to simply have a drink without eating.
If this isn't enough to tempt you to scale these heights, then the Ice Pavillion in the Fee glacier, originally opened in 1990 and then redesigned and reopened in Spring 2016, is really something not to be missed. The entrance to the Ice Pavillion is on the lower floor of the restaurant building at Mittelallalin, and entry is CHF 10 for adults and CHF 6 for children (from age 6). As you descend into the glacier, you pass small plaques on the wall, indicating when the formation of the ice at that level dates back to. Passing my year of birth, we rapidly descended into a time way beyond living memory. Awaiting us were the most spectacular ice sculptures that I have ever seen. Beautifully displayed and illuminated in a relatively small space, which nonetheless, requires some time to visit.
After a couple of hours in Mittelallalin, we took the Alpin Express back to Saas-Fee. Après-ski is offered in abundance, and we welcomed the mulled wine, as the temperatures plummeted. Eating out in Saas-Fee is easy, even for vegans and those with food intolerances, such as gluten or lactose. It is necessary to reserve a table, as we discovered, however, one day in advance seemed to be sufficient.
An alternative cable-car route to access the slopes is the one which takes you to Laengfluh (2870m) via Spielboden (2448m). Restaurants can be found at both stations, but we made our way directly to Laengfluh. The weather was incredible, excellent visibility and not a cloud in the sky as we entered the chilled but party-like atmosphere of the bars which bordered the pistes. Deckchairs beckoned us at the Rock bar, also part of the Dom Group, which proved the ideal resting point as we soaked up the rays, took in the stunning scenery and people watched, all the while sipping our drinks.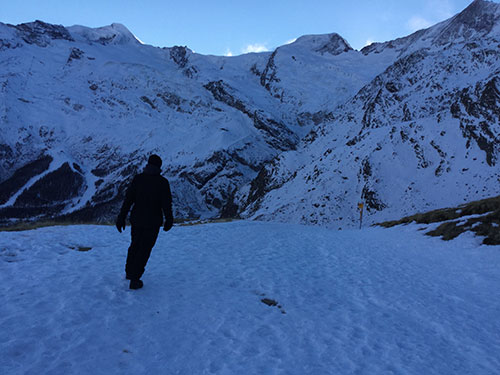 I am not a skier and prefer snowshoeing, however, I could appreciate that this was certainly a skier's paradise.
Our final cable-car adventure took us up to Hannig (2336m), which is often referred to as a sledging and hiking paradise. In winter this route offers a dream hike with snowshoes, however, given that there was a significant absence of snow, the snowshoes stayed at home and the hiking shoes made an appearance. We did the hike down at the end of the day, which took around 1 hour 30 minutes. It was a pleasant walk, suitable for adults and children, with superb views over Saas-Fee.
If you are staying in Saas-Fee all public transport is free, hence the name the 'Free Republic of Holidays' used in most marketing literature. You need to pay for cable cars and, of course, ski passes in addition.
I would go back to Saas-Fee at the drop of a hat. I am thrilled that this was where I spent my last Christmas holiday in Switzerland. It certainly found a place in my heart.
Useful websites:
www.saas-fee.ch
www.domcollection.ch
www.saas-fee.ch/en/eispavillon
Author's bio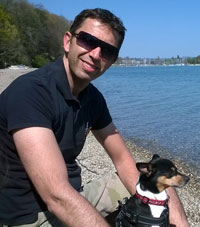 Dean Marriott was born in London and educated in the UK and Germany. He retired from a career in finance, aged 33, and subsequently retrained as an actor and teacher. From an early age, his passion for languages and the arts has underpinned both his professional and social lives. In his quest for leisure activities, Dean keeps one key thought in mind: if Shakespeare's words are true and 'All the world's a stage', we shouldn't have to look far in order to be entertained. We just have to make the time to appreciate it.
If you are searching for an element of entertainment in your leisure pursuits and have a desire to look beyond the obvious, then Dean will use his artistic eye to point you in the right direction.
Dean works in Switzerland as an actor, voice-over artist, and onscreen presenter. He also teaches theatre, improvisation and film-making at La Chataigneraie, Ecolint, as part of their ECA programme.
Save
Save
Save
Save
Save
Save
Save
Save
Save
Save
Save
Save
Save
Save