Exercise has always been promoted as an essential component for both our physical and mental wellbeing. However, exercise is a broad term and what works for one person may not work to the same degree for another.
Recently, I have taken up swimming again; not in a pool but in the lake. My target each day is to swim to a carefully selected 'orange buoy', and, of course, back again. This takes between 30 and 40 minutes depending on the conditions of the lake and the force of the current. As Lake Geneva lies on the River Rhône, the source of which is the Rhône Glacier in Valais, there is a current that varies in strength on a daily basis.
I have discovered a huge difference between lake swimming and pool swimming, and it's not simply the absence of chlorine. The fact that I have no opportunity to rest at the end of each length has caused me to experience something quite exhilarating. I have a very active mind, and find it hard to 'switch off' and relax. Many of us experience periods of stress which prove a challenge to manage. Going to the gym helps me. However, at times I find myself lost in my thoughts between exercises, and although I indeed benefit physically, my mental state is still somewhat neglected.
When I swim in the lake, I am able to detach from my thoughts and simply focus on the activity: regular deep-breathing, coordinated stretching of the arms and legs, navigating my passage between boats and dinghies – in fact, I truly live in the moment. I am not worrying about the effects of what has happened in the past or what might happen in the future. Nothing stands between me and the environment in which I find myself; we become one.
After swimming I not only feel physically invigorated but also genuinely mentally uplifted and positive, with this over-riding sense of calm. Swimming is the only exercise for me that can effectively break a cycle of stress, by providing a window of tranquillity, which remains in place for a good few hours after exercising. The more I do, the better it has become.
During my acting training, we focused considerably on the importance of controlled breathing. We used aspects of yoga and meditation techniques to help us relax, to calm nerves and sharpen our ability to focus during a performance. On reflection I realise that I apply these same techniques subconsciously every time I swim.
I researched this a little more, to discover that swimming is indeed by far one of the most superior forms of exercise. A 30-minute swim is said to offer the same physical benefits as a 45-minute run and can burn more calories, depending on the stroke used; butterfly being by far the highest calorie burner. However, unlike running, you avoid much of the physical impact on your joints and work your entire body. Therefore, it's also ideal for people suffering from arthritis or other joint problems.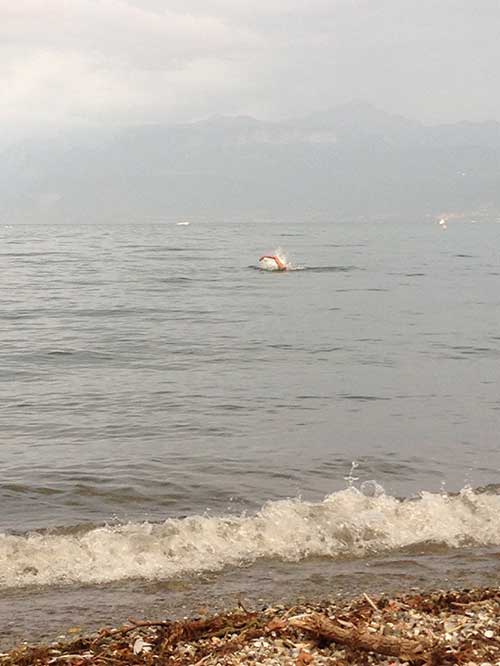 The US CDC (Centers for Disease Control and Prevention) extols the virtues of water-based exercise for your mental health. Studies conducted proved how swimming can decrease anxiety, stress and depression, whilst improving mood.
Being located next to Lake Geneva means that there is no excuse not to get your feet wet, especially when the weather is as glorious as it has been lately. However, if you would rather visit your local swimming pool to start with, here's a very useful list of those situated in the French-speaking part of Switzerland: http://www.badi-info.ch/piscines-suisse.html.
During the summer months, generally from mid-May until late-September, many open-air swimming pools are available to the public at very reasonable prices. For example, our local open-air pool complex in Morges costs just CHF 5 for adults and CHF 2 for children up to age 16.
Various associations also offer lessons to both children and adults: in Geneva http://natation-ecole.ch/ ; in Lausanne http://www.lausanne.ch/ecole-natation ; and of course, additional information can be found on the knowitall.ch website http://www.knowitall.ch/local-news/leisure/sports-lessons-and-clubs
Swimming is a lifetime sport, accessible to all ages and all abilities. Isn't it time for you to take the plunge?
Author's bio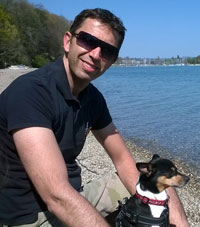 Dean Marriott was born in London and educated in the UK and Germany. He retired from a career in finance, aged 33, and subsequently retrained as an actor and teacher. From an early age, his passion for languages and the arts has underpinned both his professional and social lives. In his quest for leisure activities, Dean keeps one key thought in mind: if Shakespeare's words are true and 'All the world's a stage', we shouldn't have to look far in order to be entertained. We just have to make the time to appreciate it.
If you are searching for an element of entertainment in your leisure pursuits and have a desire to look beyond the obvious, then Dean will use his artistic eye to point you in the right direction.
Dean works in Switzerland as an actor, voice-over artist, and onscreen presenter. He also teaches theatre, improvisation and film-making at La Chataigneraie, Ecolint, as part of their ECA programme.
Save
Save
Save
Save
Save
Save
Save
Save
Save
Save