By Hiba Giacoletto, Healthwise
This is the simplest way ever to make a healthier pizza: Mixing cooked quinoa or millet with eggs, pressing this mixture into an oven dish and baking it. It's a great idea to always make a bigger portion of whole grains anyway since they last for up to four days in the fridge. If your whole grain is already cooked, this dish really just takes 15 minutes. No messy doughs or complicated ingredients - and did I mention it is also gluten-free!
You can also use this crust as a base for garlic 'bread'. Mix together a little olive oil, minced garlic, salt and dried oregano and pour this mixture over the crust without putting it back in the oven. Delicious!
Ingredients:
2 cups cooked quinoa or millet (that's 1/2 cup uncooked)
2 medium sized eggs
a dash of salt and a handful of dried herbs (optional)
Method:
Pre-heat the oven to 200 degrees Celsius.
Mix quinoa or millet with the eggs and salt and combine with your hands to create a dough. You can also add some dried oregano for more taste.
Press the dough into a baking dish and bake until it is cooked (about 15 minutes).
Remove from the oven and add toppings of your choice. Place back in the oven until cheese melts.
Author's bio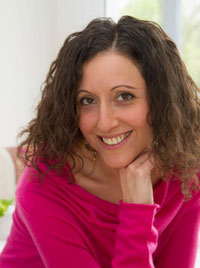 Hiba Giacoletto is a Certified Health Coach from the Institute for Integrative Nutrition (IIN) with a Masters Degree in Psychology
Hiba helps people lose weight, feel more energetic or take control of their eating without diets or deprivation. She believes that no one way of eating or living works for everyone and that it is about experimenting to find what truly works for you. She uses a unique blend of NUTRITION + PSYCHOLOGY + COACHING to help people start trusting their body's wisdom to make food and lifestyle choices that enable them to look and feel their best. She is convinced that regardless of what you might have tried in the past, she can help you get unstuck, overcome self-sabotage behavior and find your mojo!
You can book a FREE 45 minute Health Chat via her website, www.healthwise.ch to find out whether Health Coaching is right for you.
www.healthwise.ch
www.facebook.com/healthwise.ch
www.twitter.com/HibaGiacoletto
www.pinterest.com/healthwisech/