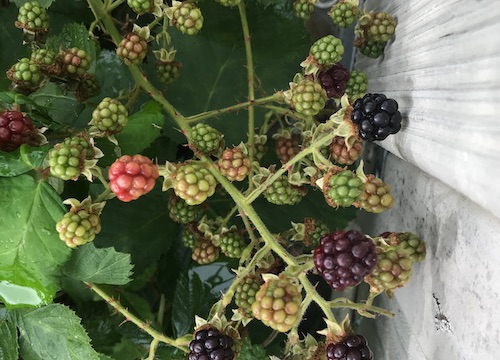 With the abondance of rain our wild blackberries behind the fence have been fruitful so I thought I would try to make some of Aunt Faye's blackberry jelly. And the only way to really appreciate eating it was to make some homemade biscuits!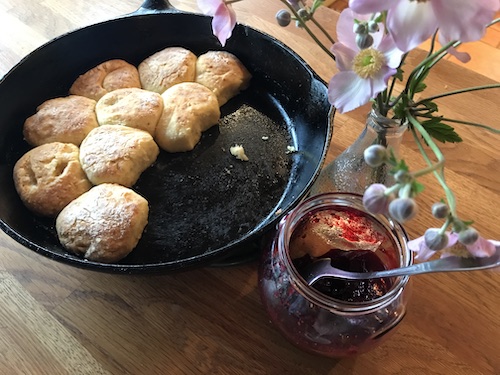 BLACKBERRY JELLY
What I used (multiply these quantities for the amount you have):
— 600g blackberries (most were black but not sweet)
— 1/4 cup of water
— 1 cup of sugar (I used the one for making jams)
— 1 sterilized jar
Press the blackberries and water with a spinach press or other flat instrument to release most of the juice. Add sugar and bring to boil. Let boil about 10 minutes and strain to get rid of the seeds. Put a plate in the freezer. Put liquid back in pan and boil for another 10 minutes.
Put a dab of the jelly on the frozen plate and draw your spoon through it. If the juice runs back together, then continue boiling. Retry a few minutes later until you can run a spoon through and the line stays.
Pour the hot mixture into jar (be careful, it is really hot). Put lid on immediately and screw in firmly. Let set without disturbing until room temperature and then refrigerate overnight.
I heard the best jelly is from wild blackberries as they are not sweet like the store-bought ones.
Watch tutorial video at this link.
SOUTHERN BISCUITS
— 2 cups flour
— 1/2 teaspoon baking soda
— 1 teaspoon baking powder
— 1/2 teaspoon salt
— 1 cup milk
— 1 teaspoon vinegar
— 70g cold butter (cut in chunks)
Preheat oven to 220ºC (500ºF). Grease your skillet or baking sheet.
Sieve the first 4 ingredients in a large bowl and press firmly down creating a well. Add vinegar to milk and pour into well. Add butter. Squeeze butter in the milk and very slowly start drawing a bit of flour from the circumference and keep squishing. Continue until you have incorporated everything (don't overmix). The dough is wet.
Sprinkle flour on your board and put the dough. Put flour on your hand and pat dough to about 1cm thickness. Cut out in circles and lay touching each other.
Cook for about 12 minutes or until tops are just light brown. Eat immediately while still warm.
#followlisanow #blackberryjelly #southernbiscuits #homemadebiscuits #blackberries #tutorial #recipe #instructions