Click here for video link to recipe with Follow Lisa
I'm still on a quest to use the giant 4.5kg Toblerone that I received as a Christmas present from my son, so I have taken the Banana Bread recipe from The Settlement Cook Book (Simon and Schuster), and adapted the cooking time to make cupcakes with a chunk of the beast incorporated within.
Makes 12 cupcakes or one loaf (if you want to double the recipe as I did, it will make 24 cupcakes).
— 2 cups flour
— 2 teaspoons baking powder
— 1/2 teaspoon baking soda
— 1/2 teaspoon salt
— 1/4 cup softened butter
— 1/2 cup sugar
— 2 eggs
— 2 medium ripe bananas
— 1/2 cup buttermilk (or milk with a tablespoon of vinegar)
— 12 pieces of Toblerone chocolate
Pre-heat oven to 350ºF (180ºC)
Bowl 1: sift dry ingredients (flour, baking powder, baking soda, salt).
Bowl 2: mix butter and sugar, then add eggs.
Bowl 3: mash bananas and add buttermilk.
Mix half of bowl 2 to bowl 1.
Mix half of bowl 3 to bowl 1.
Mix the remainder of bowl 2 to bowl 1.
Mix the remainder of bowl 3 to bowl 1.
Line cupcake pan with paper holders and using an ice cream scoop, divide the batter between the liners.
Push one piece of Toblerone into each cupcake.
Bake for 17-20 minutes until done.
Let cool out of pan to avoid the liners from sweating.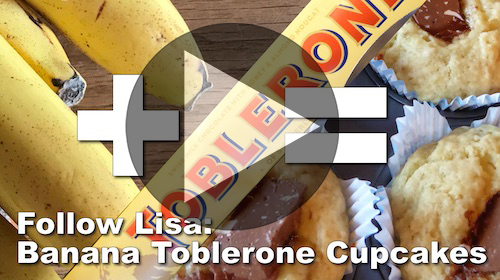 #followlisanow #bananatobleronecupcakes #bananabread #tobleronerecipes
Music from https://filmmusic.io:
"Groove Grove" by Kevin MacLeod (https://incompetech.com)
Licence: CC BY (http://creativecommons.org/licenses/by/4.0/)