Click on photo to see short video recipe
Here is an easy soup recipe that has the added level of chestnuts and chorizo to make it extra special.
— Over high heat, stir together olive oil, chopped onions, garlic, and celery leaves.
— Add salt, 2 bouillon cubes (I used vegetable but you can use chicken too), and a small glass of white wine.
— Add raw pumpkin (or can be butternut squash, sweet potato, etc.)
— Cover with boiling water.
— Cover and simmer for about 15 minutes.
— Add more hot water, cooked chestnuts, and some cream to soup and cook for another 5 minutes.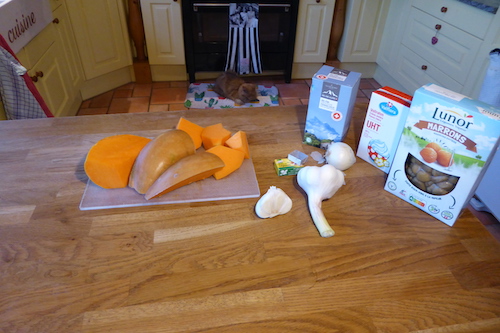 — Fry the remaining chestnuts in a little olive oil seasoned with salt and paprika.
— Fry chorizo slices in a dry pan until crispy (turn once). Drain on paper towel.
— Purée soup.
— Serve and enjoy with a thick piece of toasted crusty bread and a dollop of cream.
#followlisanow #pumpkinsoup #pumpkinchestnut #souprecipe
Author bio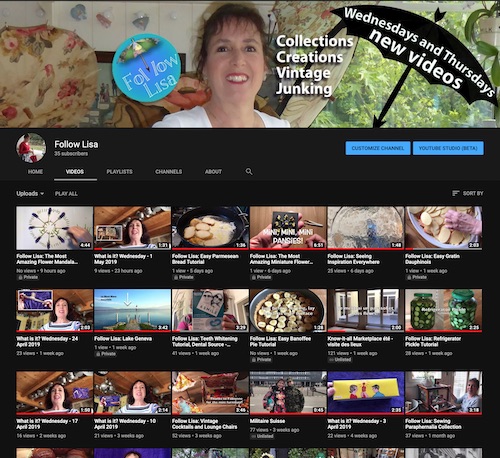 Follow Lisa: See her collections (many, many), her crafts that touch on every type, and hear snippets of advice, tips, and information relating to her little "museum"!
Encouraged by her family and friends, Lisa Cirieco-Ohlman jumped at the chance to share her passion for her collections, her creations, her junking excursions, and the colorful home she lives in. Tutorials, DIY, informative tips, cooking favorites, testing, cleaning and display advice, "What is it? Wednesdays", and creative solutions round out this "Follow Lisa" channel.
New video uploaded every week.
If you would like to Follow Lisa, go on this YouTube link and please click "subscribe" and the little bell to stay abreast of new posts! Comments are more than welcome too. #followlisanow