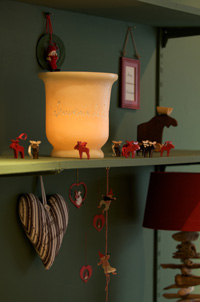 Winter's here, and as always the
Maison du Lac
is transformed with a stylish Scandinavian decor in warm, sophisticated tones. Danish owner and keen decorator Kristine Rasmussen has created a cosy, festive boutique offering stylish, seasonal ideas for your interior.
Look out for a host of unusual accessories, a veritable invitation to the delights of hibernation and cocooning: after you have purchased a few essential items at Maison du Lac you will be able to curl up by the fireside with a soft alpaca throw, or watch the snowflakes fall outside your window while sipping a delicious hot chocolate from one of the boutique's mugs, whose captions invite you to "Have tea with me" or sample a rich "latte").
Best of all, you will be able to invite family and friends to a festive meal around a table decked with "reindeer" candleholders and frosted candles. If you are struggling for home decoration and gift ideas this Christmas, this boutique is definitely one to put on your shopping itinerary!
Maison du lac, Rue Saint-Victor 24, 1227 Carouge / Tel. 022 301 8522 /
www.maisondulac.ch