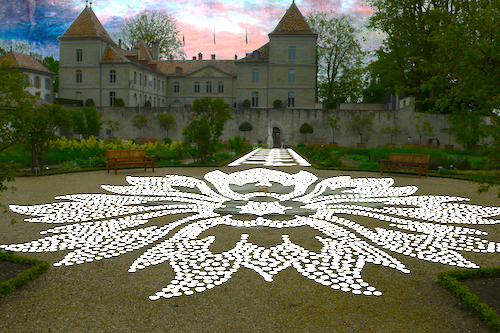 Photomontage « Fleurs de feu », jardin potager, © www.muma-art.com
On Saturday 29 and Sunday 30 September, join the Château de Prangins to celebrate 20 years as home to the Swiss National Museum in French-speaking Switzerland.
To celebrate its 20th birthday, Château de Prangins is opening its doors to all for two days of festivities. The centerpiece will be performance art entitled: Flowers of Fire by the artist-sculptor Muma, while the 10th Lunch on the Grass will take visitors on an amazing journey through time from 1701 to 1920.
Flowers of Fire will take place from 18h30, Saturday 29 September.
Lunch on the Grass 10h-18h on Sunday, 30 September.
Flowers of Fire highlights this anniversary with 50,000 candles! Inspired by the flowers depicted in chintzes, the artist Muma is laying on a spectacular light performance in the château gardens. More than 600 registered volunteers will be working with him to realize this social sculpture. The Swiss National Museum will remain open from 18h-22h specially for the occasion, giving visitors an opportunity to view the temporary exhibit (see photo at bottom): Chintz, how a fabric changed the world! and enjoy a unique view looking down on Flowers of Fire from the windows of the castle. The commune of Prangins is joining in the celebrations by staging its village fête from midday to midnight. The program includes events for children (until 18h), musical entertainment, bars and food trucks.
Lunch on the Grass will take place on Sunday from 10h-18h and is open to all. This edition takes visitors on an amazing journey through the time period 1701 to 1920. A series of activities for all ages taking place throughout the day will bring history to life. Don't miss the original creations inspired by chintzes made by students from the Geneva School of Art and Design HEAD and the historical costume parade (sign up at the event until 13h). A gourmet food market will be selling all the ingredients for a perfect picnic on the grounds.
Photomontage « Fleurs de feu », tilleuls © www.muma-art.com
Practical information
The official 20th birthday ceremony on 29 September and Lunch on the Grass on 30 September will take place regardless of weather conditions. The go-ahead for Flowers of Fire will depend on the weather forecast. For real-time information call 1600 (Fr. 0.90 per call plus Fr. 0.90/min.) or send a text message with the word FLEURSDEFEU to 1600 (Fr. 0.80/message), from 18h on Wednesday 26 September.
They are encouraging visitors to use public transport: train to Nyon, and then bus 805 or 811, or the special shuttle bus. Région de Nyon has generously supplied a limited number of Mobilis public transport tickets and Publibike codes. These can be obtained free of charge from regiondenyon.ch/20ans-musee
Special shuttle bus: between Nyon railway station (Jura side exit, next to the Publibike station), the landing stage and Château de Prangins, between 11h-16h30. Return fare Fr. 5.- (Fr. 3.-/age 6-16 and AHV/OASI)
On foot: around 25 minutes from Nyon railway station
By bicycle: www.publibike.ch (bike station two minutes from the château)
By car: A1 Geneva–Lausanne motorway, Nyon or Gland exit. Parking for Château de Prangins is available by the lake along the Route Suisse. On Saturday 29 September only, the Colovray car park in Nyon is available for visitors. A shuttle bus service will run between the car park and the museum.
On 29 September traffic and parking in Prangins will be altered. The stop for bus 805 will be moved and the Fossés car park will be partially closed from 25 September to 1 October.
For further information contact:
Swiss National Museum
Château de Prangins
022 994 88 90
This email address is being protected from spambots. You need JavaScript enabled to view it.
www.nationalmuseum.ch/f/microsites/2018/Prangins/20ans.php
Paul et Virginie (détail)
Nantes, manufacture Petitpierre & Cie, vers 1795. Impression à la plaque de cuivre.
© Musée national suisse