© The Art of the Brick
This autumn, Palexpo will host one of its most colourful exhibitions to date: The Art of the Brick! Read down to the bottom to enter our competition to win a package of 4 tickets, a Fr. 72.- value!
From 4 October 2018 to 6 January 2019, the American artist, Nathan Sawaya, will present some of the most amazing examples of his creative sculptures, made out of millions of colored LEGO© bricks.
Having toured the world with his masterful creations, Sawaya has earned a reputation for presenting poetic installations which pay tribute to the collections of our great museums. He is well known for providing his own unique and often humorous interpretation of classical works such as the Mona Lisa, Vermeer's Girl With a Pearl Earring, or Venus de Milo.

Nathan Sawaya sits next to one of his sculptures © Marte Berenguer
Sawaya also pays tribute to famous artists such as Bob Dylan, Jimi Hendrix and Andy Warhol…not to mention the famous T-Rex dinosaur for which he has created an enormous skeleton sculpture, which alone uses more than 80,000 bricks!
Other works are totally original creations straight out of the sculptor's imagination. Sawaya plays with pop art's codes and invites the public to reflect about playing, art and the necessity to live one's dreams. He explores every possibility of these popular little bricks, beyond the limits imposed by a mere toy box.

T-Rex skeleton © Robin Kim
With its creativity, its elegance and its enormous scale, the Art of the Brick exhibition is certain to have mass appeal for people of all ages, and will impress anyone who has ever played with LEGO© bricks in their life. With more than one million coloured bricks on show, Palexpo will undoubtedly be hosting one of the most talked-about exhibitions in the world this autumn
Featuring around a hundred different displays, the exhibition is expected to take around an hour and half to complete, although there is no time limit on your visit – take as long as you like and as many photos as you like! To avoid queues at the door, you are advised to book in advance so that you can enter the exhibition at a time that suits you.
Tickets are on sale now through the Ticketcorner network, with prices ranging from Fr. 16.- for children, through to Fr. 25.- for adults. Family tickets for 2 adults / 2 children or 1 adult / 3 children are also available for just Fr. 72.-. Click here to buy your tickets.

© The Art of the Brick
The Art of the Brick
Geneva, Palexpo Hall 7
http://www.aotb.ch/
When:
4 October - 4 November 2018, open every day
5 November - 23 December 2018, open Wednesday to Sunday
24 December 2018 - 6 January 2019, open every day

Sawaya's interpretation of Michelangelo's David © The Art of the Brick
Opening hours:
10h to 19h (last entrance 17h30) except:
24 and 31 December: 10h to 16h (last entrance 14h30)
25 December and 1 January: 13h to 19h (last entrance 17h30)
Entrance tickets:
Fr. 16.- to Fr. 25.-, audio guide included
No-queue tickets are timed at 30 minute intervals. Book in advance to ensure admittance and to access the exhibition without queueing for tickets.
Estimated time for the visit: 1 hour and 30 minutes (there is no time limit)
Tickets are on sale through the Ticketcorner network. Click here to buy your tickets.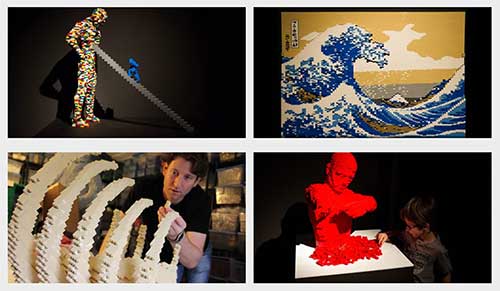 © The Art of the Brick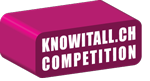 The organizers have kindly offered knowitall.ch readers the chance to win a package of 4 tickets, a Fr. 72.- value! Only one entry per person and per email is allowed. The competition closes at midnight on Tuesday 2 October 2018. The names of all those submitting correct answers will be placed into the digital hat and the winner's name drawn at random the following day. The winner will be notified by email and his / her name will be added to this article after the competition closes. Click here to fill in the competition form.
CONGRATULATIONS TO NUMAYR CHOWDHURY FOR WINNING THE DRAW!