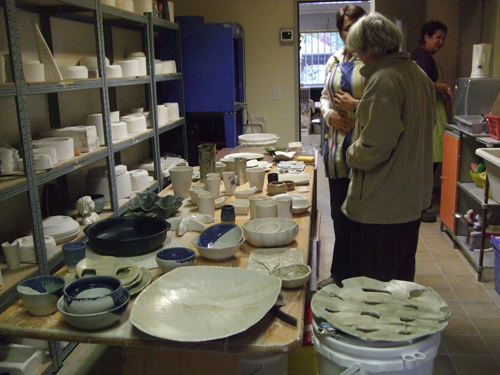 If one of your new year resolutions was to take up a new hobby or develop a new skill then why not give ceramics a go?
With all the possibilities that this unique craft offers, you don't have to be a skilled artist to enjoy it. The potential for making new friends and enjoying a new cultural experience can provide all the incentive you need to take up this sociable pastime!
To help more people "discover" the world of ceramics, professional ceramics artist, Lynn Frydman Kuhn, is offering clients the possibility to sign up for a free 3-hour ceramics class at her workshop in La Rippe, Vaud. Normally priced at Fr. 50.- per session, these classes provide a wonderful opportunity for anyone to try their hand at throwing on the wheel, modelling, sculpture or slip casting with porcelain.
Lynn told us, "Ceramuse is all about positive, happy, creative energy! Working at the Ceramuse is about getting the creative juices flowing and simply enjoying the experience of making ceramics. There is always an excellent atmosphere and delicious tea!"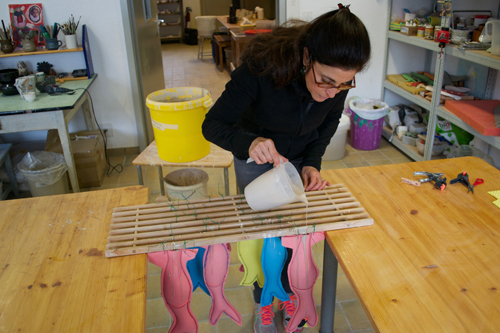 Professional teaching
As an American who has lived in Switzerland for over 30 years, Lynn is an active player in the Swiss ceramics scene: she is co-president of the Swiss Ceramics Association, swissceramics, and a member of the International Academy of Ceramics. She has three diplomas to her name: a bachelor of art in ceramics, a post grad in contemporary ceramic experimentation and a Master's degree in ceramic design.
Since Lynn opened her sunny, 80m2 workshop in La Rippe back in 2004, she has split her time between creating her own line of ceramics that she sells commercially (click here to view some sample work), and developing courses that appeal to both adults and children.
She currently offers 3-hour classes for adults on Tuesday and Thursday mornings, as well as Thursday afternoons. There are also 90-minute classes for children aged 8 and above on Thursday afternoons. Anyone who just wants to use the workshop for their own projects is also welcome. You can find out more information about these courses and prices on Lynn's website here.
Client recommendation
Lynn's classes are so popular that many of her clients come back year after year to attend her classes. This is what one client told us, who has been doing ceramic classes at her workshops for a long time now:
"I have worked at Lynn's studio for about 4 years now. She is very knowledgeable and friendly, she speaks English and French. Students at the studio range from absolute beginners to advanced ceramicists, Lynn helps everyone at their individual levels. The studio is well equipped, always clean and tidy ready for us to work. The kiln-firing schedule is regular so work is fired and returned quickly. I would highly recommend Lynn as an artist and a teacher."
Summer camp for kids
Lynn also runs a popular week-long art program in the summer for children called Ateliers Récréatifs. Taking place daily between 9h and 16h, this program covers land art as well as ceramics. Look out for more information about this on our Activities Calendar for Kids nearer the time, or contact Lynn directly for more details.
Free class
So, if you think that you would like to give ceramics a go, why not sign up for a free trial class with Lynn? You have nothing to lose and a lot to gain, not just a few pots but also some new friends too! This is a special offer to our readers, valid until the end of April 2018. Thank you, Lynn!
Atelier Ceramuse
Rte des Quatre Fontaines, 8
1278 La Rippe
078 606 22 39
This email address is being protected from spambots. You need JavaScript enabled to view it.
www.lynn-ceramique.com