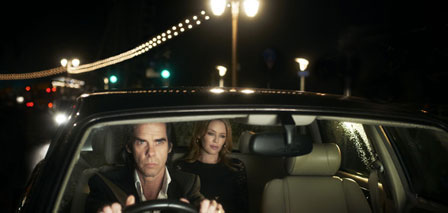 Image from the film, "20,000 days on earth"
Swiss Première: 26 April, 22h00, Théâtre de Marens, Nyon
English
Love is one of the main themes of the 2014 Visions du Réel International Film Festival in Nyon, Switzerland, to be held from 25 April through 3 May 2014. Now in its 45th year, and for the 20th time entitled "Visions du Réel", the Festival has reached new highs: more than 3,500 films screened in Nyon or in other festivals worldwide have been narrowed down to a final 175 chosen from 51 countries. To make things easier for festival-goers, a new Visions du Réel smartphone application can also be downloaded for free.
The love theme was not chosen in advance by Festival programmers, but emerged naturally once all the films were viewed and selected by the committee. "To reduce over 3,500 films to 116 in the competition (50 feature-length, 26 mid-length and 40 short films), we have strict selection criteria, ranging from high artistic standards to having an ethical outlook on the world," Luciano Barisone, Festival director, explains. To continue to be a global platform for launching new films, exclusivity is also a crucial criterion for Visions du Réel. As well as a record 116 films in competition, there will be 59 films presented outside the competition.
The only "cinéma du reel" film festival in Switzerland, Visions du Réel is internationally renowned and considered as one of the most important in the world for documentary production. For over one week in April, each year in Nyon, it brings together a large movie-going public and professional filmmakers for a total of nearly 30,000 spectators.
Image from the film "Garden Lovers"
International Première: 30 April, 21h30 and 1 May, 12h00, Salle Communale, Nyon
Finnish, with French and English sub-titles
The Festival is also one of the rare international film events in Switzerland where the majority of films shown are world and international premieres. It is held in conjunction with a major European market for documentaries, called Doc Outlook-International Market, which each year brings together 1,000 professional producers from all over the world.
The 116 films in competition (The International Feature-Length, Mid-length and Short film competition sections, and the Regard Neuf, Helvétiques, Etat d'esprit , Premiers Pas and Doc Alliance Selection sections) include:
50 feature-length films
26 mid-length films
40 shorts
80 films shown as world premieres
31 films as international premieres
5 films in their European or Swiss premieres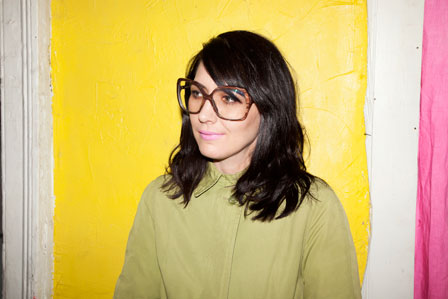 Image from the film "The Punk Singer" courtesy of Aliya Noumoff
European Première: 1 May, 20h30, Théâtre de Marens, Nyon
English with French sub-titles
In addition to competitions, the Festival program also features:
a new section called Grand Angle, presenting the best of the other major international festivals (10 films)
a workshop dedicated to the American filmmaker Ross McElwee (9 films)
a workshop on the Belgian filmmaker Pierre-Yves Vandeweerd (6 films)
a lifetime achievement award, Prix Maître du Réel to Richard Dindo
a Focus on contemporary documentary production in Tunisia (16 films)
a projet Traces du futur, short films from filmmakers that took part in the Festival in the past 20 years
a program of short films, presented in collaboration with La Lanterne Magique
a film contest, Jeunes Réalisateurs du Réel, for young documentary filmmakers between 12 and 18 years old (10 films in competition)
The full festival program can be downloaded by clicking here.
Visions du Réel
Various locations, Nyon
25 April to 3 May 2014
www.visionsdureel.ch