By Dean Marriott
This summer I made the move from Morges to Berlin. After 4 years in Switzerland, the time was right for a change.
I had bought my apartment in Berlin some 10 years ago with the intention of one day taking advantage of this wonderful city. Having studied in Germany as part of my undergraduate program, I always knew that eventually I would return and hopefully revive my hibernating language skills.
The curious thing about language is how dynamic it really is – it evolves without you even noticing. That is unless you have been out of that linguistic framework for some 25 years! Indeed, it's proving difficult to substitute my antiquated German expressions for the modern parlance, especially when it feels that I am adopting the persona of an MTV presenter, injecting apparently 'cool-sounding' English words into an otherwise standard German phrase. I never thought that I would feel empathy for the Académie française, but sometimes I can't help it.
Anyway, as part of my integration into my new world, I felt that I should embrace change wholeheartedly. So, what better way to face this head on than to join a gym. But not just any old gym. Oh no. This is a gym where I only need to (in fact I am limited to) attend a maximum of 3 times per week for a maximum duration of 20 minutes per session. Sceptical? I certainly was. So, I signed up for a free trial.
I was told that I didn't need to bring anything with me as everything would be provided. On arrival, I was given a pair of lycra shorts and a lycra t-shirt and instructed to change into them. It was stressed to me that I should remove all items of clothing including underwear before I return.
It's a strange sensation when you strip naked and step into your lycra shorts. It's like being on stage for the first time, fully exposed with nowhere to hide – a little self-conscious, perhaps. However, this doesn't last long. Arriving back to meet my trainer, I am instantly strapped into my soaking-wet waistcoat (more like a sleeveless straightjacket), have arm straps and leg straps attached, and finally have something that looks like a cummerbund strapped around my bottom, which I am asked to attach from the front, of course. Electrodes are then connected to each muscle area before I am finally plugged in to a machine, and my session begins.
Welcome to the world of Electric Muscle Stimulation! An intensive exercise regime which provides a total body workout. The electric impulses cause your muscles to contract and coupled with the use of free-weights and general body resistance, you achieve an effective workout in a short space of time. A personal trainer works with you at each session to ensure that you progress towards your goals and, importantly, work relentlessly for the full 20-minute session. I started my program 6 weeks ago and I am very happy with the results. After the first 2 sessions, I could hardly move my arms; extending them fully was a challenge. But I could feel that this was working from day 1. My body is toning well and my strength is increasing. I've lost 1.5 inches from my waist but my overall weight has actually increased by 2 kilos.
EMS gyms are popping up everywhere. They don't require the same amount of space as a traditional gym, so are likely to become increasingly available. Professional sportsmen and women have been using this as part of their training and rehabilitation programs for years.
Now that the weather is changing and you turn your focus to more indoor activities, it's worth giving this one a try. Most companies will offer a free trial, as it is not sometime for all tastes. You've got nothing to lose and everything to gain by having a go. Be impulsive – you may be shocked at what you discover!
Author's bio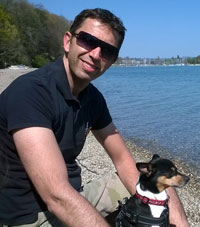 Dean Marriott was born in London and educated in the UK and Germany. He retired from a career in finance, aged 33, and subsequently retrained as an actor and teacher. From an early age, his passion for languages and the arts has underpinned both his professional and social lives. In his quest for leisure activities, Dean keeps one key thought in mind: if Shakespeare's words are true and 'All the world's a stage', we shouldn't have to look far in order to be entertained. We just have to make the time to appreciate it.
If you are searching for an element of entertainment in your leisure pursuits and have a desire to look beyond the obvious, then Dean will use his artistic eye to point you in the right direction.
Dean left Switzerland in July 2017 and is currently studying towards a Masters in Film Directing in Berlin, although he is still managing to squeeze in some acting, where possible.
Save
Save
Save
Save
Save
Save
Save
Save
Save
Save