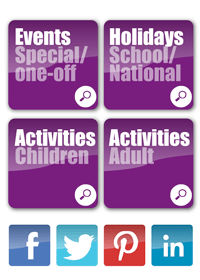 Current events
Tue Sep 02
DAHLIA EXHIBITION, MORGES LAKESIDE
Tue Sep 02
DETOX EXHIBITION, ALIMENTARIUM
Tue Sep 02
HERITAGE GENEVE SUMMER EXHIBITION
Tue Sep 02
KNIE CIRCUS - GENEVA
Tue Sep 02
L'AMARR@GE FLOATING FLAG POOL, GENEVA
Tue Sep 02
LA BATIE, FESTIVAL DE GENEVE
Tue Sep 02
LUDOBUS
Tue Sep 02
MORGES VINEYARDS TRAIN
Tue Sep 02
PAPIERS DECOUPES. SCHERENSCHNITTE. SILHOUETTE.PAPER CUTS: EXHIBITION
Tue Sep 02
PHOTOGRAPHIC EXHIBITION, SAINT-GENIS-POUILLY
Tue Sep 02
RODIN EXHIBITION
Tue Sep 02
TROP HUMAIN: INTERNATIONAL RED CROSS & RED CRESCENT MUSEUM
Wed Sep 03
DAHLIA EXHIBITION, MORGES LAKESIDE
Wed Sep 03
DETOX EXHIBITION, ALIMENTARIUM
Wed Sep 03
HERITAGE GENEVE SUMMER EXHIBITION
Wed Sep 03
L'AMARR@GE FLOATING FLAG POOL, GENEVA
Wed Sep 03
LA BATIE, FESTIVAL DE GENEVE
Wed Sep 03
LUDOBUS
Wed Sep 03
PHOTOGRAPHIC EXHIBITION, SAINT-GENIS-POUILLY
Wed Sep 03
RODIN EXHIBITION
Search
Published on Sunday, 31 August 2014 11:14
Sign up for one of Lisa's vintage plate jewelry workshops - or buy one of her hand-made bracelets here
Whilst everyone was moaning about the weather this summer, Lisa was laying the foundations for her latest creative venture - transforming broken plates into stunning, beautifully hand-crafted jewelry. With a few sample bracelets under her belt, she is now ready to launch her new vintage jewelry business, and invites you to share her love of jewelry-making by signing up for one of her vintage plate jewelry workshops taking place this autumn.
"Not only do antique plates look great with a beautiful slice of cake adorning them, but they look even better once broken and chipped", Lisa chirps as she speaks of her passion. "I started doing stained glass in 2007 and fell in love with it. The color and light that glass releases is so cheerful and fun. You can really let your imagination go wild." Many of her stained glass projects have other everyday objects incorporated to add another dimension, such as aluminum objects, watches, wood and shells, and of course antique plates. However, once the plates have been used, the remainder is usually trashed. Lisa is not one to throw out anything that could potentially serve a purpose, and one day decided to incorporate plate remnants into her jewelry.
Trial and error was overcome. She worked out how to cut the plates and sand them down to a smooth finish, how to adhere the plate pieces to metal, and how to make them all into a beautiful, meaningful object. The initial project was for herself - Lisa's first bracelet and matching necklace were born in February 2013 (photo above).
WHAT TO DO emails

Click here to view Lisa's "Picks of the Week", published every Monday morning in her WHAT TO DO emails.
Click here to add your name to Lisa's mailing list.
Our latest blog entries

Check out the latest blog entries on our website here.
We are currently building up this section of the site, so please contact us if you would like to become a knowitall.ch blogger!
Copyright© 2010-2014 knowitall.ch