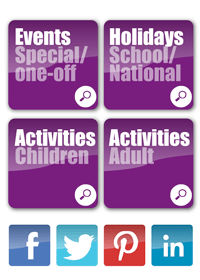 Current events
Thu Aug 28
AUBES MUSICALES, BAINS DES PACQUIS
Thu Aug 28
DAHLIA EXHIBITION, MORGES LAKESIDE
Thu Aug 28
DETOX EXHIBITION, ALIMENTARIUM
Thu Aug 28
ELECTRO THURSDAYS / LE JEUDIS ELECTRO, THONON
Thu Aug 28
FREE SHOWS FOR CHILDREN AT SIGNAL DE BOUGY
Thu Aug 28
HERITAGE GENEVE SUMMER EXHIBITION
Thu Aug 28
L'AMARR@GE FLOATING FLAG POOL, GENEVA
Thu Aug 28
LUDOBUS
Thu Aug 28
LUNA CLASSICS FESTIVAL, NYON
Thu Aug 28
MORGES VINEYARDS TRAIN
Thu Aug 28
PAPIERS DECOUPES. SCHERENSCHNITTE. SILHOUETTE.PAPER CUTS: EXHIBITION
Thu Aug 28
PHOTOGRAPHIC EXHIBITION, SAINT-GENIS-POUILLY
Thu Aug 28
RODIN EXHIBITION
Thu Aug 28
TROP HUMAIN: INTERNATIONAL RED CROSS & RED CRESCENT MUSEUM
Fri Aug 29
DETOX EXHIBITION, ALIMENTARIUM
Fri Aug 29
HERITAGE GENEVE SUMMER EXHIBITION
Fri Aug 29
L'AMARR@GE FLOATING FLAG POOL, GENEVA
Fri Aug 29
LUDOBUS
Fri Aug 29
PHOTOGRAPHIC EXHIBITION, SAINT-GENIS-POUILLY
Fri Aug 29
RODIN EXHIBITION
Search
Published on Tuesday, 19 August 2014 07:54
Know-it-all passport 2015/2016 on display at one of the many sales points.
Manor Geneva, 3rd floor
That's it! The corrections are made and the new recommendations have been added in the 9th edition of Know-it-all passport®. The Imprimerie Nationale Rochat Baumann (thanks to Jacques and his team) in Geneva have done a great job. It takes 4 weeks of printing and 6 weeks of binding. This 10 week-long print process brings you the quality item that you will keep on hand for the next two years. There are also two bookmarks on ribbons that are hand-inserted by a little old lady near Fribourg! Get your copy at one of our distribution points for your copy hot-off-the-press!
LISTINGS
All the listings are entered free-of-charge. We base our entire work ethic on recommendations from people like you (these people have their name listed on the last page of the book). We would love to know that we are supported by all those that have their company or business listed. Please buy your copy and/or pass along this article to show your support! Thanks!
ABOUT THE 9TH EDITION
Sporting the new purple color throughout, the cover is lifted with a touch of green. Click here to see the the evolution of the colors from the first edition.
See the photo competition winners and runners-up entries in our article.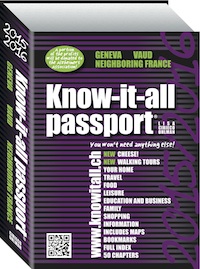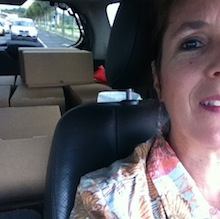 Lisa's selfie delivering boxes
of books last Tuesday!
WHAT TO DO emails

Click here to view Lisa's "Picks of the Week", published every Monday morning in her WHAT TO DO emails.
Click here to add your name to Lisa's mailing list.
Our latest blog entries

Check out the latest blog entries on our website here.
We are currently building up this section of the site, so please contact us if you would like to become a knowitall.ch blogger!
Copyright© 2010-2014 knowitall.ch