A new community art project has just been set up in Geneva, designed to brighten up our streets and help Geneva residents get to their neighbors better.
Created by the Tako organization, the new project, called "Boîtes d'Echange Entre Voisins", encourages residents to leave items that they no longer require in their local box, in exchange for other items already left by their neighbors in the same box.
By swapping personal belongings such as books, CDs, DVDs, and games, it is hoped that residents will not only enjoy the element of surprise and anticipation surrounding the discovery of a box and its contents, but they will also come away with a better understanding of their neighbors, and what interests them.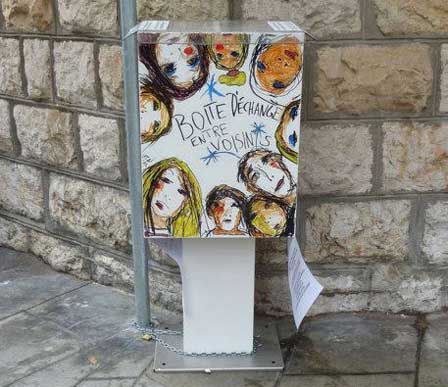 Previously used as newspaper stands, the 10 boxes used in this initial test phase of the project were decorated by local artists during a special weekend workshop, held just before the project was launched officially on 20 December. Click here to see some of the unique and unusual designs created.
To find out more about the project, visit the Tako website at: http://tako.ch/box/geneve/. On the website, you will see numerous photos of the boxes that have been placed throughout Geneva during the first stage of this project, which is also supported by the Ville de Genève, the Département de la Cohésion Sociale et de la Solidarité (DCSS), and the Département de l'Environnement Urbain et de la Sécurité (DEUS).
Look out for the new boxes at the locations listed below and feel free to swap any of your personal items with those already left behind. If you find something unusual, why not take a photo and send it in to the organizers at Tako, who are keen to share your discoveries with others in the community.
Boîtes d'Echange Entre Voisins
http://tako.ch/box/geneve/
The location of the 10 boxes:
Jonction, Rue du Vélodrome
Plainpalais, Rue Patru
Plainpalais, Rue Jean-Violette
Eaux-Vives, Rue Cordiers
Pâquis, rue Ancien-Port
Pâquis, Rue du Môle
Délices, Angle Rue Amiel
St-Jean, Rue Confessions
Servette, Rue Lamartine
Grottes, Rue du Midi