As part of its continuing drive to improve customer service, Harsch (The Art of Moving), has opened up offices in Lausanne. The new premises will enable them to move closer to both existing and potential clients, as well as overcome some of the operational barriers that exist between the canton of Vaud, of which Lausanne is the capital, and the canton of Geneva, where the Harsch headquarters are currently located.
Speaking at the recent opening of the offices, Didier Zemp, Relocation Department Manager at Harsch, explains: "Both cantons have different authorities. In addition to the Federal Government, each Canton also has its own government, not necessarily with different laws but sometimes with different rules, ways of doing things, traditions and even culture. Because of these differences, we felt it was important for our clients that we had a separate entity in Lausanne, with vehicles registered in Vaud and a Lausanne Registre du Commerce – we wanted to demonstrate to our clients that we are definitely committed to and established in Vaud."
Harsch Lausanne will offer the same specialist services the company offers elsewhere: individual removals, corporate removals, state-of the art storage (fine art, archive and general) and relocation assistance. With their leading edge storage facilities in Vaud at Gland, the company intends to expand its existing client base in the region, which comprises a number of multinationals and corporations, to include new organizations who are not currently familiar with the breadth and quality of Harsch's service.
"Our aim is to better service the clients we have there and to grow our client portfolio among the many multinationals in the area," explains Dominique Mundia, Head of Sales and Marketing at Harsch. "I would say that as a company, Harsch has always been very focused on its clients and clients' needs. We have often had requests from clients in the Lausanne and Vaud area to be present there ...and we always listen to our clients. Being in Geneva with expertise in Lausanne is good but not good enough – clients really wanted us to be more local to them. That is the way we started our relocation business in Geneva, at the request of our international moving clients and now, because our clients asked us to go and be physically in Lausanne, we have decided to do just that."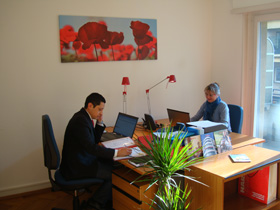 She adds, "Given that people can now work in Switzerland but live in neighboring France, clients also have the option of choosing whether they want to live in Switzerland or France. Sometimes decisions like these can take some time to resolve, but Harsch clients have the advantage of being able to leave their containers in one of our in-house customs' bonded warehouses, either in Geneva or Lausanne, until they know where it has to be cleared to. This means there are no extra administrative charges."
"We are one of the very few companies allowed to do this," Zemp explains. "Since we are on the spot and have solid relations with the local authorities, particularly in the Canton of Vaud, we are in an excellent position to guide companies thinking of moving to the area with firsthand advice, information, cost of living information, ideas ...in fact act for them and counsel them on all the pros and cons of moving to the area."
The change in the law giving people the ability to live in neighboring countries has opened up a whole new territory for Harsch, particularly for its relocation department. "The ability to work in Lausanne and live in Evian in France has completely changed the way we can approach things," confirms Zemp. "In fact we offer Relocation in the US sense of the term. That is, relocation as the total package, from looking for houses to handling the move to finding and organizing schools and other facilities – moving both companies and their employees. And that is why it is important that people deal with a company such as Harsch, a company that works internationally but knows and understands local culture, regulations and ways of doing things."
The new Harsch offices are on Avenue du Tribunal-Fédéral, right in the centre of Lausanne, near the cathedral, the Hôtel de la Paix and some major real estate agencies. "For us it is very convenient," concludes Mundia, "because we have clients all around Lausanne and Vaud, so it is now easier to visit them and for us to welcome them to our offices. Our idea was also to be quite central so that we could all benefit from the practicalities of a central position."
For more information on Harsch, visit the company's recently updated website at:
www.harsch.ch
Harsch features on pages 10 and 23 of Know-it-all passport 2011/2012
.
Adapted from an article by Ita McCobb