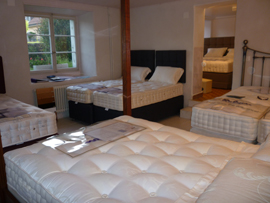 If you've just arrived from abroad and you didn't bring your own bed with you, then the chances are you've been having a few sleepless nights trying to find the perfect replacement.

Whilst there are many retail outlets in the region offering a wide range of beds, they generally come into two main categories: cheap and cheerful, or prohibitively expensive. It seems high quality beds are hard to come by in this area!

Not any more! Local entrepreneur, Fiona Garnham has partnered up with British Beds Worldwide to provide those living in Switzerland, the opportunity to buy superior quality beds, which can normally be found easily in the UK, at a price that is affordable. British Beds in Switzerland was launched earlier this year to address the huge gap in the market for reasonably priced, luxurious beds, which can be delivered directly to your home.

Together with British Beds Worldwide, Fiona has opened a showroom between Lausanne and Geneva, above the town of Morges, which displays several models typical of the range on offer, as well as headboards and bed frames. Customers are invited to make an appointment and experience for themselves, in complete privacy, the quality of the beds on offer. Before they make a decision, customers are reminded that their choice of bed may have a significant impact on their health and well-being for many years to come!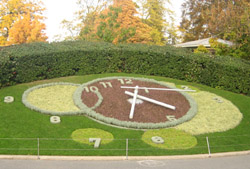 How many times have you got to the end of the day and wondered "If only I'd had more time…" You didn't quite make it to the dry cleaners before they shut, or you couldn't find a minute to call those workmen you desperately need to come over and do a quote.

When local entrepreneur, Patrick de Moustier, moved to Geneva over 10 years ago, he fell into the same trap and saw a fast-paced lifestyle that left little time for relaxation with all those chores that needed to be completed.

Having already developed a successful service company in Paris, he decided, earlier this year, to apply his extensive commercial and logistical skills towards setting up a service company that would make life easier for those living in and around Geneva. Having worked many years in the international service industry, Patrick is fully accustomed to the needs of international clients with high expectations of customer service.

Called Save My Time, his company provides a wide range of private and concierge services, covering virtually every eventuality. According to Patrick, he will be your "Personal Assistant", giving you access to his extensive network of contacts. In his words,

"I will respond to all your requests no matter how large or small the task may be: arranging administrative formalities, searching for the right subcontractor, making sure the best deal is negotiated and overseeing the works, finding an IT technician and setting up your home PC, being there to receive deliveries when you can't be, organizing a reception or weekend in the mountains, selecting a children's holiday camp…", the list is endless!
To give knowitall.ch visitors an idea of the kind of service he offers, and the level of quality they can expect, Patrick is offering the first three customers quoting Know-it-all passport a 10% discount on his services. Now there's an offer you can't refuse!
For more information on the kind of chores you would like Patrick to do for you, take a look at his website on
www.savemytime.ch
.
Photos: (Top) Flower clock in Geneva. (Right) Patrick de Moustier.
Local supplier of concierge services, Post&Smile, has just announced details of its SUMMER OFFER, which includes 15% off orders above Fr. 200.- during the Summer period.
So if you are planning on going away during the next few weeks, or you just need a helping hand in the home whilst your kids are home from school, then take a look at the company's website (www.postandsmile.com) to see the full range of services on offer.
Here are just a handful of the services that Post&Smile can arrange for you:
house sitting & watering of flowers
walking and feeding your pet
transfer to/from airport
organising house cleaning
food shopping before your arrival
Natalia Kosenkova and Elena Isaieva run Post&Smile together and typically work from Monday to Friday, 8 am - 8 pm, within the Geneva Canton area. They can, however, provide Concierge Services outside working hours and beyond the Geneva Canton area but additional rates will be applied.
For further information, contact:
www.postandsmile.com
Tel: + 41 78 907 63 63; + 41 78 907 61 09
Email: This email address is being protected from spambots. You need JavaScript enabled to view it.
Now that the cold weather is behind us some of you may be starting to think about those renovation projects which you have put on hold over the Winter period. Some of you may be putting your projects off even longer while you pluck up the courage to discuss your requirements in a language, with which you don't feel entirely familiar! It can be one thing ordering your groceries in French, quite another ordering windows!
Local renovation company, Maisons de Rêve, may just be the company you are looking for. The company claims to be able to find solutions to virtually any project, whether it be building an extension, renovating a room or creating a room, fitting a new kitchen or re-doing a floor - the list goes on. They can also act as project managers for bigger sites. They do virtually everything you might require, except electricals.
Based in Etoy, they work in the cantons of Vaud and Geneva, and sometimes further afield.
Owner, Dean Careless, says "As I am English, there is no confusion with the expat community. I think the main advantage to Maisons de Rêve is having one person in charge of the whole site. Too often, I have seen clients come to me complaining that the builder came but the plasterer didn't and so the builder couldn't do his job, let alone the plumber (for example). My business avoids this issue entirely and we can simply get on with the job at hand."
For further information, visit the website: http://www.maisonsdereve.ch/
Interior Designer, Jorge Cañete, has announced dates for his Spring 2010 Program of Interior Design Workshops.
The workshops are suitable for anyone interested in interior design and wishing to get more involved in this field by acquiring what Jorge describes as "a comprehensive methodology and basic techniques". Each seminar is created and taught by Jorge, who is a graduate of the London Metropolitan University and member of the International Interior Design Association (IIDA). His work includes corporate projects for international brands and residential projects.