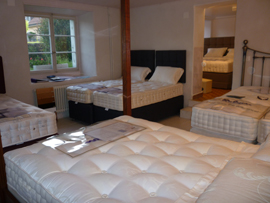 If you've just arrived from abroad and you didn't bring your own bed with you, then the chances are you've been having a few sleepless nights trying to find the perfect replacement.

Whilst there are many retail outlets in the region offering a wide range of beds, they generally come into two main categories: cheap and cheerful, or prohibitively expensive. It seems high quality beds are hard to come by in this area!

Not any more! Local entrepreneur, Fiona Garnham has partnered up with British Beds Worldwide to provide those living in Switzerland, the opportunity to buy superior quality beds, which can normally be found easily in the UK, at a price that is affordable. British Beds in Switzerland was launched earlier this year to address the huge gap in the market for reasonably priced, luxurious beds, which can be delivered directly to your home.

Together with British Beds Worldwide, Fiona has opened a showroom between Lausanne and Geneva, above the town of Morges, which displays several models typical of the range on offer, as well as headboards and bed frames. Customers are invited to make an appointment and experience for themselves, in complete privacy, the quality of the beds on offer. Before they make a decision, customers are reminded that their choice of bed may have a significant impact on their health and well-being for many years to come!
Commenting on the new collaboration, Fiona says, "Buying a bed is an important decision and not everyone is comfortable buying without trying. When the idea of a showroom was first discussed, I needed little persuading as to the wisdom of the venture. Four years ago I had bought my own bed from British Beds Worldwide, and found the whole experience reassuringly easy and satisfying! Not only was the quality of my bed excellent, but the service was outstanding!"
The two bed manufacturers represented at the showroom are Hypnos and Relyon, both of whom have been making the finest quality beds to the highest standards for over 100 years. Indeed, Hypnos is still a family-owned business and has a Royal Warrant from the Queen of England.
If you would like to make an appointment to try out some beds, please telephone Fiona on 078 890 2677 or email her at
This email address is being protected from spambots. You need JavaScript enabled to view it.
.
British Beds in Switzerland features on pages 28 and 33 of Know-it-all passport 2011/2012.