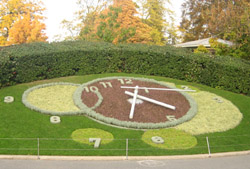 How many times have you got to the end of the day and wondered "If only I'd had more time…" You didn't quite make it to the dry cleaners before they shut, or you couldn't find a minute to call those workmen you desperately need to come over and do a quote.

When local entrepreneur, Patrick de Moustier, moved to Geneva over 10 years ago, he fell into the same trap and saw a fast-paced lifestyle that left little time for relaxation with all those chores that needed to be completed.

Having already developed a successful service company in Paris, he decided, earlier this year, to apply his extensive commercial and logistical skills towards setting up a service company that would make life easier for those living in and around Geneva. Having worked many years in the international service industry, Patrick is fully accustomed to the needs of international clients with high expectations of customer service.

Called Save My Time, his company provides a wide range of private and concierge services, covering virtually every eventuality. According to Patrick, he will be your "Personal Assistant", giving you access to his extensive network of contacts. In his words,

"I will respond to all your requests no matter how large or small the task may be: arranging administrative formalities, searching for the right subcontractor, making sure the best deal is negotiated and overseeing the works, finding an IT technician and setting up your home PC, being there to receive deliveries when you can't be, organizing a reception or weekend in the mountains, selecting a children's holiday camp…", the list is endless!
To give knowitall.ch visitors an idea of the kind of service he offers, and the level of quality they can expect, Patrick is offering the first three customers quoting Know-it-all passport a 10% discount on his services. Now there's an offer you can't refuse!
For more information on the kind of chores you would like Patrick to do for you, take a look at his website on
www.savemytime.ch
.
Photos: (Top) Flower clock in Geneva. (Right) Patrick de Moustier.