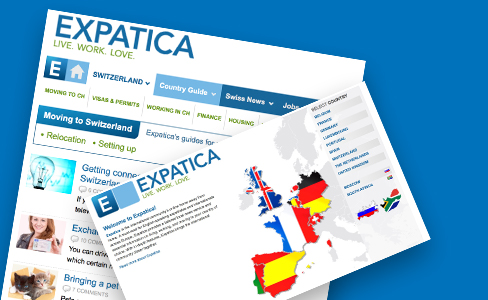 Looking for a new home in Geneva, Vaud or neighboring France has never been easier than on the newly revamped housing section of the Expatica website!
Their Find a House channel has recently been updated to include a wealth of new features for expats looking to buy or rent a property in this region.
For both Switzerland and France it is possible to access a number of guides relating to buying or renting a property, plus advice on where to live in each of the countries.
For example, in the Buying section of the Swiss portal, there is a guide on Swiss mortgages, as well as tips and mistakes to avoid when buying a house abroad. In the Renting section there are articles offering useful information about frontaliers, and others that provide advice on what needs to done before you move out of a rented apartment. For those unsure about where to live, there is a great article, contributed by Know-it-passport, which details all the best places to live in Geneva, Vaud and neighboring France!
For those who know exactly where they want to set up home, there is an extensive Search facility on the website, which enables users to browse according to the type of property they wish to buy or rent, or according to region.
At the time of writing, there is a wide range of properties listed in the Geneva region. Whilst it is also possible to search on properties in Vaud, there are significantly fewer listings – however, with the imminent addition of a new category for Vaud, this is expected to change soon. Likewise, users may access the French portal of the Expatica website and look for properties in France, and search on towns such as Ferney-Voltaire and Divonne-les-Bains.
Information resource
First launched as an information resource for expats living in the Netherlands in 2000, the Expatica website now provides daily news, features and practical information in English on all aspects related to living abroad. The goal of the website is to provide high quality content and services to international communities across Europe and beyond, with a special focus on Belgium, France, Germany, Spain, Switzerland, the Netherlands, the United Kingdom, Luxembourg, Portugal, Moscow and South Africa.
Expatica.com provides essential information to help internationals settle into their new country of residence, such as tips on how to find a job or housing, useful guides on the local health and education systems, details on visas and permits, or advice on how to deal with finances and pension plans in their adopted country.
Online tools
There are a range of online tools that you can use to help you find a job or home, buy or sell in the classifieds section, or locate a business. You can even ask Expatica experts for free advice online – or browse through the answers to previous questions on subjects ranging from insurance, currency exchange and tax, through to gardening, leisure and travel.
For those keen to network with other expats in the international community, there is a growing networking platform, which includes various social media channels, local events and a popular Expat Dating section.
Expatica also has an extensive news section so, wherever you live, you can keep up to date with the latest news headlines, in English, as they come in.
Other services
In addition to the website, visitors can sign up to receive daily news, a weekly events guide, or a weekly selection of the most recent articles published on the site. Further afield, in Amsterdam, Expatica hosts an international job fair which takes place annually and provides a range of employment services and information related to working abroad.
Expatica
www.expatica.com
Swiss portal: www.expatica.com/ch
French portal: www.expatica.com/fr
Save
Save
Save
Save
Save
Save