5 double tickets to be won in this year's knowitall.ch competition!
The Château de Vullierens will open for the Easter weekend for the first time. The opening will be held on April 21st, Easter Sunday. Families are invited to search around the property in a giant hunt for clues and puzzles to solve, leading to the garden where their reward awaits: a Lindt chocolate rabbit! Younger children will be on the hunt for little bells but will, of course, receive a yummy chocolate rabbit too!
The Iris Festival, a beautiful spectacle featuring 50,000 flowers, including 400 different varieties, spread out over an area of 4 hectares. Open until 16 June 2019, this year's festival has got off to a great start with 13 new iris varieties on display!
In addition to the iris plantations, there are also 5 themed gardens, including the Jardin du Châtelaine, which features 2000 new tulips bulbs – so don't delay if you want to see these at their best! Muni's Garden, Daria's Garden, Secret Garden and Dorianne's Garden also have their own unique characteristics that are sure to delight all gardening enthusiasts.
Like previous years, the flowers are accompanied by an exhibition of large outdoor sculptures, including 3 new pieces by Etienne Krähenbühl and Manuel Torres. In all there are now 52 sculptures, created by 12 different artists, laid out within the grounds of the Château to monumental effect! There will also be a colorful display of art on show in the Gallery of the Château, with work by Claude Augsburger, Urs-P. Twellmann, Christine Gaillard and Matteo Gonet.
A key attraction of this year's Iris Festival is the varied and unusual line up of animations that has been organized, ranging from literary walks in the gardens and light painting at night, through to free art lessons and dog displays! If these were not enough, visitors can also take advantage of a walk through an enchanted forest, have a snack at the food truck or book a photography session with the photographer Vincent Hofer. You can view the full program of events here.
No Iris Festival would be complete without the option of Sunday Brunch. Served on the shaded terrace of the Café des Jardins, the brunch is provided every Sunday and on national holidays, between 10h30 and 12h30 and again between 13h and 15h.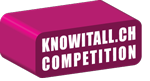 Tickets for the Iris Festival are priced at Fr. 15.-/adult, and Fr. 5.-/age 12-16, under 12s free. On Mondays, you can buy 2 tickets for the price of one! And of course, you can enter our knowitall.ch competition to give yourself a chance of winning one of 5 pairs of tickets that are going free! To enter the competition just fill in this form and let us know what shape chocolate will be given at the Easter hunt.
Only one entry per person and per email is allowed. The competition closes at midnight on Monday, 15 April 2019. The names of all those submitting correct answers will be placed into the digital hat and the winner's name drawn at random on Tuesday, 16 April 2019. The winner will be notified by email and his/her name will be added to this article after the competition closes.
Château de Vullierens
64th Iris Festival
21 April through 16 June 2019
daily 10h-18h
https://chateauvullierens.ch/en/
---
CONGRATULATIONS TO THE FOLLOWING PEOPLE FOR WINNING THE TICKETS! The answer, by the way, was rabbit... so many got it wrong!
David Cameron
Jennifer Biswas
Jan Powell
Jason Maddix
Melanie Dakin