Inspired by the golden era of its Belle Époque heritage, Neuchâtel Tourism has organized a series of original tours for tourists that combine history, gastronomy and architecture. With eighteen wall paintings spread across the city centre, an unforgettable 'trip' on an authentic period tram, and a tasting of the green fairy (absinthe), there is plenty for visitors to see, experience, and taste on a day trip to Neuchâtel!
The Belle Époque: an era of economic boom and flourishing tourism
From 1896 to 1914, Europe experienced a brief magical period: a few years of peace marked by strong economic growth. This period of ebullient progress was later named the 'Belle Époque'. Inspired by those golden years that boosted the region's economy and helped tourism to flourish, Neuchâtel Tourism and the Municipality of Neuchâtel invite you to journey back in time and discover those carefree years through a series of original tours and visits that are equally suitable for groups, families or single travellers.
Interactive experiences for all five senses
'Neuchâtel in the Belle Époque' is now a unique tourist attraction in Switzerland: an interactive route linking a series of experiences that offer fun as well as information. Begin your trip by visiting some of the eighteen paintings located on various walls throughout the city, each offering a glimpse of Belle Époque life and customs. Then try your hand at some of the games that were popular back then – hopscotch, hoops or the Game of the Goose.
Once you have tired of playing games, step aboard the Tramoscope, an authentic turn-of-the-century tram now on permanent display in the Place Pury kiosk. This unusual audiovisual tour will take you into the heart of the Neuchâtel of yesteryear. Your nose can also experience 'Neuchâtel in the Belle Époque' thanks to an installation that exudes the delicious aromas of Suchard chocolate – and your taste buds will be delighted when you 'secretly' sample absinthe, the legendary Neuchâtel spirit!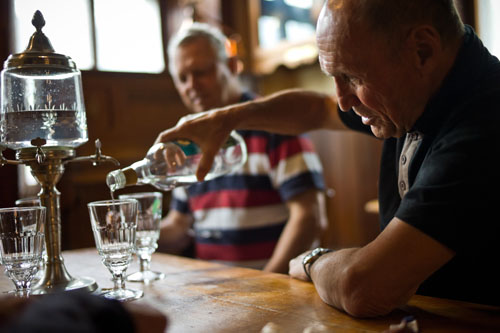 Individual or guided tours, or a paper chase for younger visitors
'Neuchâtel in the Belle Époque' is open to groups, families or school classes; tours are tailored to visitors' preferences, with or without a guide. Click here to download a plan of the tour.
'Les Chenapans' ('The Rascals') is a paper chase designed for children to discover eighteen characters and painted objects in various locations around the historic quarter, illustrated with entertaining stories. Work out the mystery word and you'll receive a gift at the end of the trail! Click here for more details and prices.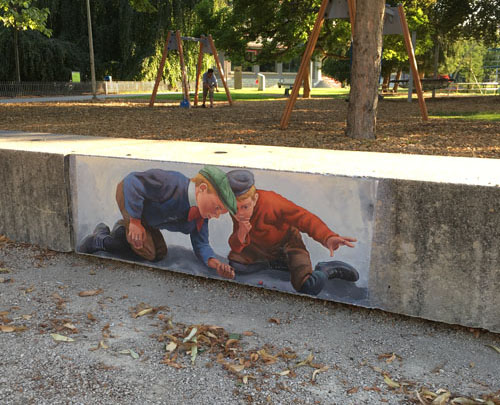 Prolong the pleasure
Visitors seeking a waterborne experience can follow their exploration of the early 20th century with a cruise on board the 'Neuchâtel', an iconic Belle Époque steamer that was completely renovated in 2014. Thanks to collaboration with GastroNeuchâtel, several partner restaurants will soon be offering special Belle Époque dishes inspired by these tours.
Starting point, information and reservations:
Neuchâtel Tourism
Hôtel des Postes
2001 Neuchâtel
032 889 68 90
This email address is being protected from spambots. You need JavaScript enabled to view it.
www.neuchatelbelle-epoque.ch
Photos: ©Tourisme neuchatelois
Save
Save
Save
Save
Save
Save
Save
Save
Save
Save