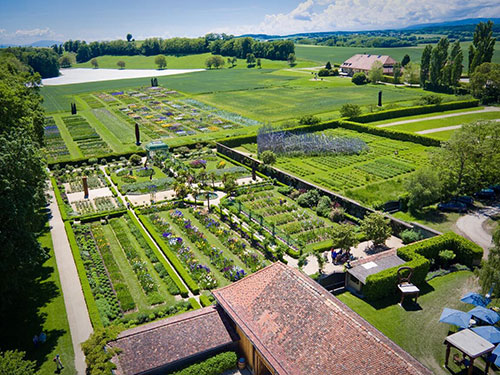 Enter our competition to win one of five double tickets on offer before it closes!
With just 2 weeks left before it closes on Sunday, 18 June 2017, the Château de Vullierens has once again put on a magnificent display of color for visitors to its annual iris festival, Les Floralies d'Iris.
With 6 themed gardens spread over 4 hectares, this year's festival has an amazing 50,000 flowers on display, divided between 400 different varieties of iris. An extra 300 roses have also been added to the rose walk, with some great names amongst the new additions including Gertrude Jekyll and Super Fairy!
But, as regular visitors to the festival will know, Les Floralies d'Iris is more than just a flower show. Each year, the castle and gardens are adorned with magnificent pieces of art, which transform the "art du paysage" into a "paysage d'art"!
Jeunes Pousses exhibition
For this year's 62nd Edition of the festival, the squire of the castle has invited 27 artists from the Centre d'Art Contemporain d'Yverdon-les-Bains to work their magic in the castle and gardens to create the "Jeunes Pousses" exhibition. In the castle gallery, you will find an array of unusual art ranging from wooden birds through to all kinds of objects made out of ceramic, glass and paper. As you move from the first to second floor, you will discover flowers that burst with color, as well as photographs and mosaics, all with their own story to tell.
11 of the artists have chosen to display their work outdoors. Come and see for yourselves the many varied ways in which the Château gardens have inspired these artists to create such a plethora of unique pieces of art! Also on display this year, will be a selection of creative works made of Corten steel by Herbert Mehler – a regular exhibitor in the gardens – as well as Werner Makorny and Gillian White.
Programme of events
In the last 2 weeks of the festival, visitors can take advantage of the following events:
Sundays 11 & 18 June: Brunch at the Café des Jardins. Two sittings. 1st service from 10h30 to 13h30 and 2nd service from 13h to 15h. Reservation necessary: 079 776 41 14 or café@jardindesiris.ch


Sundays 11 & 18 June: Free wine tasting at the Domaine from 11h to 17h


Thursday 8 & 15 June: Afterwork Tapas from 18h to 22h. Reservation necessary: 079 776 41 14 or café@jardindesiris.ch


Thursday 8 June at 18h30: Guided tour of the exhibition "Jeunes Pousses" by Karine Tissot, Centre d'Art Contemporain d'Yverdon. Fr. 25.- per person including entry and aperitif. Reservation necessary. 021 869 88 80 or

This email address is being protected from spambots. You need JavaScript enabled to view it.
Saturday 10 June: 8h30 to 12h15 and 14h to 18h30. Photo sessions with the photohrapher, Aria Snaps. Families, children and couples welcome. Fr. 250.- for 15 minutes and 60 photos. Reservation necessary. 021 869 88 80 or

This email address is being protected from spambots. You need JavaScript enabled to view it.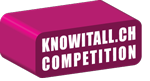 To encourage our readers to visit the Iris Festival before it closes, the organizers have kindly offered knowitall.ch 5 double tickets to offer in a competition. To give yourself a chance of winning one of these double tickets, just fill in this form and let us know which edition of the Floralies d'Iris will take place at the Château de Vullierens this year.
Only one entry per person and per email is allowed. The competition closes at midnight on Wednesday, 7 June 2017. The names of all those submitting correct answers will be placed into the digital hat and the winners' names drawn at random on Thursday, 8 June 2017. The first 5 names to be drawn will each receive a double ticket to the festival, which can be collected at the entrance, and their names will be added to this article after the competition closes.
Les Floralies d'Iris
Les Jardins du Château de Vullierens
CH-1115 Vullierens
021 869 88 80
This email address is being protected from spambots. You need JavaScript enabled to view it.
www.jardindesiris.ch
Congratulations to the following people who each won a double ticket for the Iris Festival:
Sonja Lane
Hon Fai Ng
Liliane Mauranne
Janet Lim
Lisbeth Kapun
Save
Save
Save
Save
Save
Save
Save
Save
Save
Save
Save
Save
Save
Save
Save
Save