10 double tickets to be won for the Lausanne Art Fair, Expo Beaulieu Lausanne, 4-7 May 2017!
A new art fair has been launched in Lausanne, showcasing the work of some of the most talented new artists in the field of contemporary art.
Taking place at Expo Beaulieu Lausanne between 4 and 7 May 2017, Lausanne Art Fair will feature over 2000 pieces of contemporary art selected for display by 80 carefully chosen galleries, located not just within Europe but the rest of the world too. Sculptures, paintings, photographs and ceramics will all be exhibited at this first edition of what is expected to be an annual fair for art enthusiasts in and around Lausanne.
Whether you are simply an amateur artist who appreciates good art, or a professional collector on the search for the next big name in contemporary art, Lausanne Art Fair will provide the opportunity to acquire affordable pieces of work from up-and-coming artists, as well as more expensive creations from renowned artists in this field.
Adding to the leisurely ambience of this arty occasion will be a special VIP bar with high quality catering where visitors can relax over a glass of wine and discuss the merits of the work amongst themselves. Live music will provide a jazzy atmosphere for the adults, whilst children get creative in the special "Happening Zone", available free of charge and supervised by professionals, thanks to the support of one of the fair's partner companies, Le Géant Des Beaux Arts. What a great day out for the whole family!
International concept
The idea to have an international art fair at the heart of Lausanne was conceived by art3f, specialists in the organization of large scale art events. Having successfully completed their first high end, gallery-based fair in Luxembourg earlier this year, the organizers are confident that this new event will prove equally attractive to art lovers and collectors living in and around Lausanne, one of the most international regions of Switzerland. Visitors will be able to revel in works by established artists or set off on a journey of discovery, encountering the creations of a rising young international community, which will be one of the unique features of this edition.
Preview evening
The official fair preview will take place on Thursday 4 May from 19h. Each exhibitor will preview their work at their own stand, encouraging discussion amongst the spectators and allowing favorites to start being chosen. Jazz and swing will be "on the menu" throughout the evening and the watchword will be elegance. The preview evening is open to all visitors. However, those without an invitation will need to pay Fr. 10.- for their ticket at the fair reception.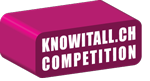 Win tickets to the fair!
Since this is the first exhibition of its kind to come to Lausanne, the organizers have generously offered knowitall.ch readers 10 double tickets to attend the fair on one day of their choosing. To give yourself a chance of winning one of these double tickets, just fill in this form and let us know where the First Edition of Lausanne Art Fair will be held this year.
Only one entry per person and per email is allowed. The competition closes at midnight on Monday, 24 April 2017. The names of all those submitting correct answers will be placed into the digital hat and the winners' names drawn at random on Tuesday, 25 April 2017. The first names to be drawn will each receive a double ticket for fair. The winners will be notified by email and their names will be added to this article after the competition closes.
Lausanne Art Fair
Expo Beaulieu Lausanne
Avenue des Bergières 10
1004 Lausanne
www.lausanneartfair.com
Thursday 4 May, 18h to 23h
Friday 5 May, 16h to 22h (lounge evening 18h)
Saturday 6 May, 10h to 20h
Sunday 7 May, 10h to 20h
Price: Fr. 10.- (Free for accompanied children under 18 years)
Congratulations to the following people who each won a double ticket to attend the Lausanne Art Fair:
Naoko Helliwell
Donna Lambert
Michelle de Piante
Seetha Chinnappa-Sarwal
Jihlmil Bahl
Susan Timberlake
Katrina Kretsinger
Emily Martinez
Silvia Schuh
Charlotte Hazlewood
Save