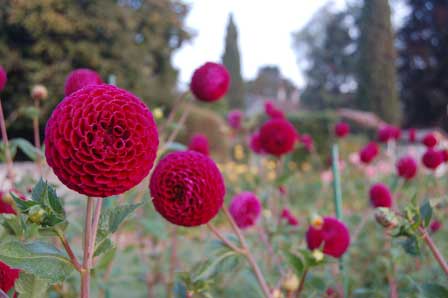 Photo by Philippe Regamey
Following on from the tulip festival in Morges, and the iris festival at the Château de Vullierens, flower-lovers can now feast their eyes upon thousands of dahlias, forming part of the annual Lakeside Dahlia festival which takes place in Morges between mid-July and October.
For the 17th edition of this event, there will be approximately 2250 dahlias, planted over a stretch of 1500m along the lakeside (between the Parc de l'Indépendance and the Parc de Vertou, mainly from the Temple towards the direction of Lausanne).

With close to 100 varieties on show this year, the festival provides an ideal place to visit with families and friends. Any elderly visitors or young children, who are not keen/able to walk the length of the flower display can also view the dahlias from the Petit Train.
The list of varieties on show, and their location along the lakeside, can be downloaded at the following website location: http://www.morges-tourisme.ch/en/flowers-nature/events-dahlias. It is also possible to order a limited number of dahlia bulbs for collection after the festival is over, using the order form available on this website. If you miss the deadline for orders (23 October, 2013), there will also be a separate sale on the 2 and 3 November, between 10h and 16h, at the Château de Morges.
Although the festival is open from mid-July, the Morges Tourist Office recommends waiting until August to see the flowers at their best, when they will have had more time to bloom.
This festival is free but relies on the goodwill of numerous volunteers to help maintain the flower beds. Anyone interested in helping out should come along on a Wednesday morning, from 17 July, meeting at 8h30 in front of the Blancherie car park, Rue de Lausanne (near "La Liberté").
For more information in English, visit the following website: http://www.morges-tourisme.ch/en/flowers-nature/events-dahlias