Special discount for our readers (details below)!
Imagine a place where you can holiday with your family in a cosy, intimate resort, but still enjoy the kind of leisure activities you would normally associate with a much larger holiday center. How perfect would that be?
Located near Perpignan in the south of France, Imagine Roussillon is a small, child-friendly resort, which does just that!
Operating uniquely for families with young children up to the age of 10, Imagine Roussillon combines a fabulous location in Canet-en-Roussillon just 8-minutes drive from the Mediterranean sea, with a huge package of included services, all provided with the personal care of owners, Phil and Emma Davies.
Wide range of leisure activities
If you book your holiday in high season, during July or August, your children can have fun in the kids club, whilst you attend one of the daily fitness classes offered to all residents, or relax by one of the 2 super-warm swimming pools. When you're not having your complimentary massage, you can head to the Jacuzzi, or do your own workout in the gym. Kids, on the other hand, have access to their own play park, equipped with trampolines and swings, as well as mini-golf. There is a separate splash pool for them too.
Each of the 6 apartments at the resort is equipped to the highest standard, including air-conditioning and Wifi. The grounds are fully fenced and gated (as are the pools) to make sure everything is as toddler and child-safe as possible. In high season, breakfast is included in the basic holiday package, as are two dinners per week on the bar terrace. There is also a special take-away pizza night with wine for those who prefer to dine in their own apartment. And if that were not enough, all wine and beer at the bar is included in your holiday package too! You can view the full list of services on the Imagine Roussillon website at: www.imagineroussillon.com
Phil and Emma's vision for a child-friendly resort
Imagine Roussillon opened in 2012, after the painstaking renovation of a former wine domaine in Canet-en-Roussillon, South of France.
The owners, Phil and Emma, decided to open the business after struggling to find something offering the same great blend of location, facilities and services for their own young family. Whilst they were able to find lots of great options inland, or lower quality choices near the beach, they could never find a resort that would offer the perfect child-friendly holiday in a premium coastal location.
Before they created Imagine Roussillon, Emma was a Pilates and fitness instructor with her own studio in the UK, and Phil was a television floor manager, working on live children's programmes in London. In 2011, they decided to re-locate to France with their two children to set up the perfect holiday resort for families with young kids!
Tailor-made for families
Asked why families should choose their resort over other popular holiday centers in the region, Phil told us, "We are tailor-made as a child-friendly resort, perfect for both kids and their parents. With Emma's background, Imagine Roussillon boasts strong fitness facilities, normally only seen in a large hotel. We have a purpose-designed studio for our daily classes, a gym, and a dedicated massage studio, all located in the former wine factory at the heart of the complex."
He concluded, "We built a resort based on our own needs – a typical Anglophone couple looking to get away with their kids, wanting to relax and feel pampered in a luxurious location, whilst their kids burn off energy and have lots of fun! Why be stuck in the middle of nowhere when you can come to our resort in Canet-en-Roussillon, and have easy access to local beaches, as well as Spain and the Pyrenees too?"
Clients love it!
It's not just Phil and Emma who love their resort… their customers love it too! This is what one client told us, who has been to the resort three times now.
"Imagine Roussillon is a fantastic place for a family holiday and ideally located with lots to see and do within the region. Hosts Emma and Phil are brilliant, and nothing is too much trouble for them - they can even recommend and book local restaurants for you. The accommodation is clean and decorated to an excellent standard. Each apartment has a well-equipped kitchen if you want to cook, but we tend to prepare either simple food, eat out or enjoy the lovely communal meals the hosts provide - a great way to get to know the other guests."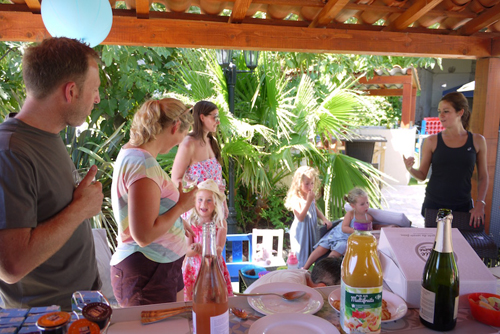 She continued, "This micro-resort has a truly unique feel as it creates its own little community for its holiday makers. Lots of wine is drunk and fun conversations are held around the sunny bar area, which also makes a good reading spot during the day. The two pools are the perfect size for children to play in, with plenty of sun loungers for the adults to sit and watch as their little ones make friends and splash away. With a kids club, bikes and adventure playground, young children love staying here and parents can also get involved with daily exercise classes - if that's what they are into. My family and I have been to Imagine Roussillon three times now and each time we've had a different experience - not just because of the people we have met there, but also because Phil and Emma are always evolving the experience for their guests. I highly recommend it as a family holiday!
Special discount for knowitall.ch readers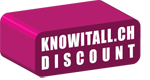 For knowitall.ch readers living in the Lake Geneva region, Imagine Roussillon is ideally located just a few hours drive away in the car – a total joy when you have young kids who don't appreciate long waits at airports! To encourage more of our readers to try out their resort, Phil and Emma are offering a € 100.- discount on any bookings made before the end of February 2018.
With prices ranging from € 1900 for a one-week stay in a 2-bedroomed apartment in May through to € 4900 for a 3-bedroomed apartment in August, this is a welcome saving towards a special night out on your holiday! You can find more information on each of the apartments available to rent as well as the full range of services provided by visiting the Imagine Roussillon website.
To claim your discount, just mention this article when you first make contact with Phil or Emma.
Imagine Roussillon
Mas Sisqueille
Mas Sisqueille Ouest
66140 Canet-en-Roussillon
France
+33 630 58 67 64
This email address is being protected from spambots. You need JavaScript enabled to view it.
www.imagineroussillon.com