Exciting and unusual Christmas present ideas from over 50 different local creators!
Know-it-all passport® started the 4th edition of our pop-up shop, Know-it-all Marketplace, this past Monday 25 November and will be open through 24 December, 2019.
Located in the popular Planète Charmilles shopping center, Know-it-all Marketplace will showcase the work of local creative people who have a passion for creating things and love to share this passion in a large surface of 250m2!
With unusual products ranging from hard-to-find gifts and luxury accessories, handmade soaps, jewelry that you won't find anywhere else, and delicious food for the entire family, you won't need to go anywhere else for your Christmas gifts this year! Chances are you will want to treat yourself to a few items too! Come along to browse, chat, meet up with friends, and buy!
Over 50 local creators
Each of the 52 creators has had to go through a rigorous selection process to avoid imported products with no local creative input.
Asked why she decided to set up a pop-up show in Geneva, Lisa Cirieco-Ohlman, publisher of Know-it-all passport®, told us, "I have dabbled in Christmas markets for years selling various creations, and I know how hard it is when you have to pay for a table AND sell your wares all day. Providing a location for all the creative people in this area to share is a great way to showcase a variety of styles ranging from sleek designed goods to handmade items."
She continued, "The shopping center boasts a well-trafficked area that has the potential to reach many more clients than your typical one-day craft fair. For most of the vendors it is the first time they will have exhibited their goods in a commercial center, and they are really keen to test the market. Together we can make it work… the whole is greater than the sum of its parts!"

Sharing creative ideas
According to Lisa, the new pop-up shop is all about sharing ideas and getting feedback for the vendors on their unique creations. In the weeks leading up to the opening of the shop, Lisa has provided vendors with tips on how best to showcase their products, offering suggestions on how to package goods or putting vendors in touch with each other so that they can team up and provide the "perfect Christmas gift" for shoppers! She asked them to each provide a photograph of them creating... which proved harder than expected. It is true that no-one had a picture ready to go; only photos taken after their product was completed! A lot of submissions were refused, but now the end result is stunning; a real showcase of local people being creative!
Indeed many of the participants have contacted Lisa, spurring her on to make this a fantastic event: "Looking forward to this adventure!", "I do all my handmade items but have no idea where to to sell them; when I saw your announcement I was so excited", "Merci Lisa et comme vous je me réjouis du succès de cette expo", "Many thanks for bringing this opportunity to Geneva and for providing a space for creative people to come together", "Thank you Lisa! You certainly are the lady with the hot tips - all those years of experience have made you very valuable", "You've certainly managed to find a great location!"
To get an idea of the range of goods for sale, visit the Know-it-all Marketplace website and browse through the images on the Local Creators page to see the vendors in action; clicking on the image takes you to their personal link.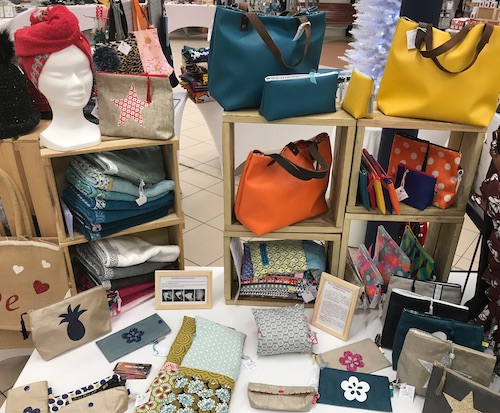 Know-it-all Marketplace 2019
Planète Charmilles
Bottom floor between Dosenbach and Cats & Dogs
11, promenade de l'Europe (near place des Charmilles)
1203 Genève
shop@knowitall.ch
www.knowitall.ch/marketplace
Open Monday to Wednesday 9h-19h
Thursday and Friday 9h-19h30
Saturday: 9h-18h
Monday, 23 December 9h-21h
Tuesday, 24 December 8h30-18h
Sundays: 15 and 22 December 10h-17h
90-minutes free parking, free all day on Fridays and Saturdays until Christmas, and on the 2 Sunday special openings.
TPG buses 6, 7, 10, 11, 19
There are 50 other shops, restaurants, and service centers in the mall.
Save
Save
Save
Save