Over 50 local creators represented by our summer pop up shop!
Know-it-all passport® is hosting its third pop-up shop from 30 July through 31 August 2019.
Know-it-all Marketplace is located in the Pâquis neighborhood, just behind the Hotels Kempinski and Beau Rivage, a stone's throw from the lake, and near the Place des Alpes and the Brunswick Monument. Participants are keen to show their creations to tourists and residents alike in this new location. The front of the shop (shown above) is quite misleading... as behind these doors is nearly 200m of shop space. It is also one block from the Library in English in case you need a good read!
With unusual products ranging from log lamps, mosaics, beauty products, accessories, local designer clothing, handmade soaps, jewelry that you won't find anywhere else, chic clothing for kids, silk scarves, works of art, ceramics, posters, and delicious edibles, you will need to leave enough time to browse and take advantage of our private courtyard where a cool beverage will be waiting for you (see photo below)!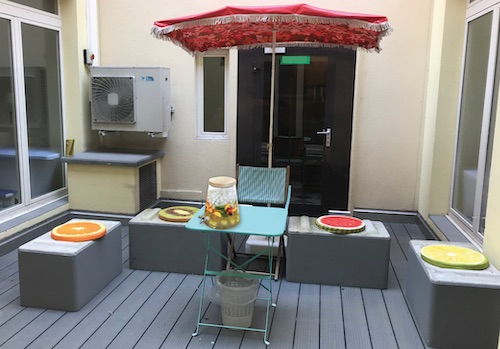 Our private indoor courtyard... We'll put out some complementary cool beverages for you!
Over 50 local creators
Each of the 54 creators has had to go through a selection process to avoid imported products with no local creative input. Some amazing new talent has risen to the surface with Thierry #89 who saws logs in slices and then reconstitutes them into lamps, Gabriela #76 who recently became a grandmother and is sewing baby clothes, Christian #71 who became a chocolatier last year and is keen to get a name for himself, to name just a few! Of course, there are some of your favorite vendors from last year too including Oh La Vache #42 with her Swiss cow ceramics and dish cloths, Spice Angel #48 with her chilli jams, CreaDC #5 with her popular jewelry, Sue #11 with a summer selection of her scrapbooked greeting cards, and Lanxel #16 with her amazing locally-named soy candles. Impossible to name them all so please check them out online or just make your rounds.
The first of 4 separate rooms!
Asked why she decided to set up a pop-up show in Geneva, Lisa Cirieco-Ohlman, publisher of Know-it-all passport®, told us, "Providing a location for all the creative people in this area to share is a great way to showcase a variety of styles ranging from sleek designed goods to handmade items."
She continued, "After doing 2 Christmas editions in a shopping center, I jumped at the opportunity to try a more centralized location during the summer. For most of the vendors it is the first time they will have exhibited their goods in a shop enviroment and they are really keen to test the market. I felt August was a good choice as we will get the tourists at the beginning and then the "rentrée scolaire" the last weeks. It will be interesting to see which of the 5 weeks brings in the most clients! As we've never done a summer version, we don't have any statistics yet. We will all meet up over a pot luck dinner once the shop is finished and analyse everything."
The shop will be open just before lunch Tuesday to Friday so you can pop in before or after lunch at one of the neighboring restaurants... many ethnic ones to choose from in the neighborhood. The shop faces 2 directly: La Caravan qui Passe and The Impulse Fine Indian Cuisine. The shop will be open all day Saturday as well... come in more than once! Lisa advised, "There is another independant shop just 10m from our shop with 5 other creators so make sure to pass by there as well."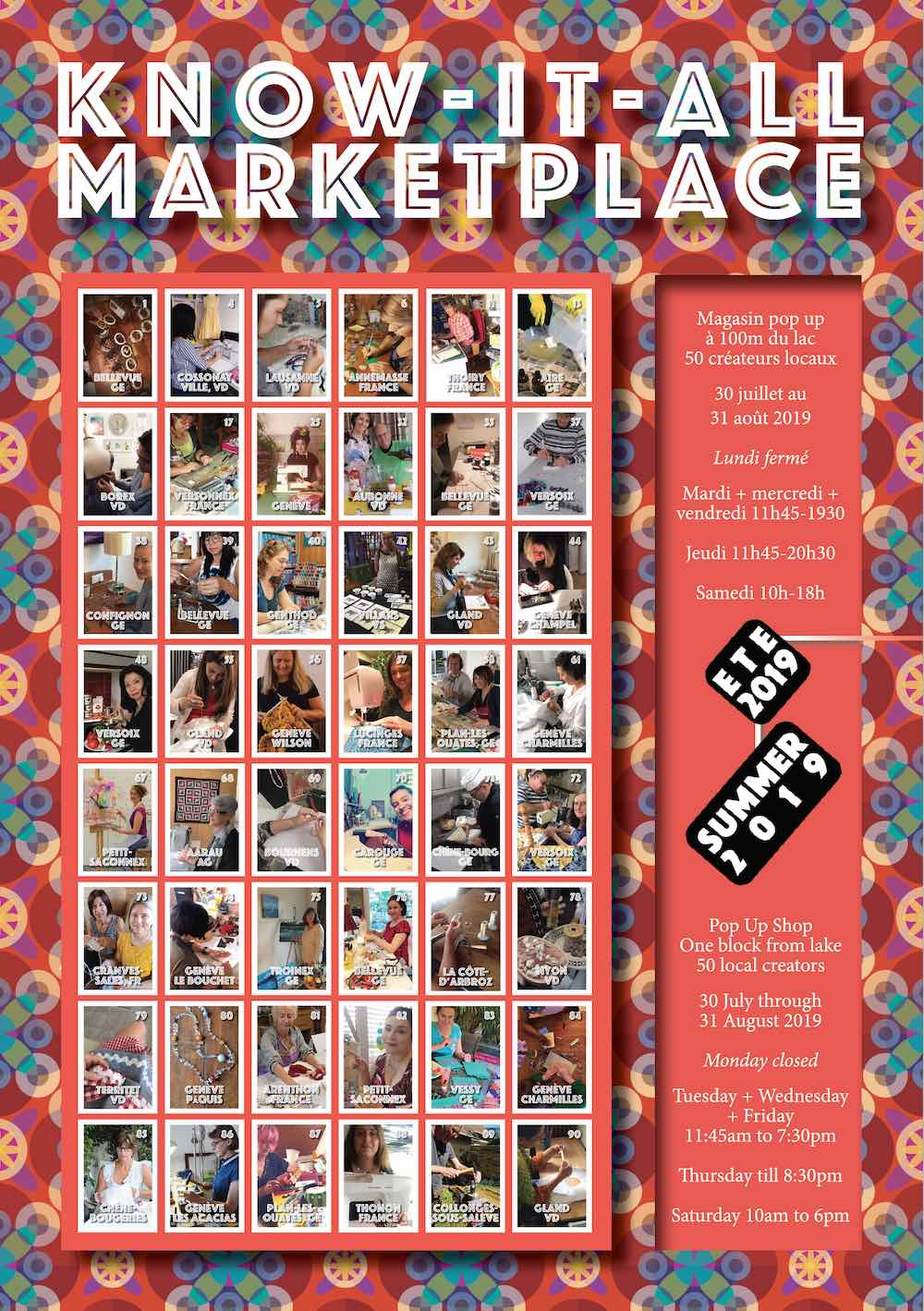 Demos and workshops
Workshops and demonstrations will be organized during the month. We don't have the final list yet but if you "Like" the KIAM FaceBook page (link below) you will be notified on dates.
Sharing creative ideas
According to Lisa, the pop-up shop is all about sharing ideas and getting feedback for the vendors on their unique creations. She asked them to each provide a photograph of them creating... which proved harder than expected. It is true that no-one had a picture ready to go; only photos taken after their product was completed! A lot of submissions were refused, but now the end result is stunning; a real showcase of local people being creative! See the front of the flyer above.
Indeed many of the participants have contacted Lisa, spurring her on to make this a fantastic event: "Looking forward to this adventure!", "I do all my handmade items but have no idea where to to sell them; when I saw your announcement I was so excited", "Merci Lisa et comme vous je me réjouis du succès de cette expo", "Many thanks for bringing this opportunity to Geneva and for providing a space for creative people to come together", "Thank you Lisa! You certainly are the lady with the hot tips - all those years of experience have made you very valuable", "Testing the tourist market is just what I needed."
To get an idea of the range of goods for sale, visit Know-it-all Marketplace's website and browse through the images on the Local Creators page to see the vendors in action; clicking on the image takes you to their personal link. Located throughout the area, all of the creators can be seen busy working on their projects to get everything ready for the opening on 30 July 2019!
Know-it-all Marketplace 2019 - Summer version
10, rue Alfred-Vincent
1201 Genève
30 July through 31 August 2019
Open Tuesday to Friday 11h45-19h30
Thursday late opening till 20h30
Saturday 10h-18h
(closed Thursday 1st August, Sundays, and Mondays)
email: shop@knowitall.ch
Website: www.knowitall.ch/marketplace
FaceBook: www.facebook.com/knowitallmarketplace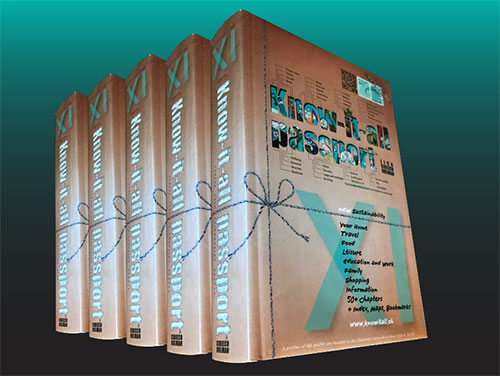 Of course Know-it-all passport 11th edition is on sale in the shop too (special price Fr. 35.-)!
Flyers being dropped in the neighborhood: Thanks to Folaked #84, Anouk #81, Rosmarie #87, and Lisa
Save
Save
Save
Save