Local entrepreneurs Barbara Traulsen and Selene Folkesson continue their success with the popular multi-functional straps and fashion accessories, Brappz, started in 2014. We published this article at the time. The idea started in a fitting room battling with the bra-strap dilemma: to conceal or reveal? They decided to reveal but with style! By swapping the traditional unsightly bra strap for a sassy silicon strap and fun, detachable hook, they created a clever fashion accessory that doesn't look, feel or adjust like a conventional bra strap.
The strappz (straps) make the perfect fashion accessory for anyone who enjoys designer bra-straps but Brappz also comes as stylish additions to your hair, designer bracelets around your wrist, necklaces, or even trendy laces in your shoes!
These silicone-based strappz and 2-way detachable hooks come in a large variety of colors and sizes. Snap on charms, including Smiley™, as well as heart shaped ones really add that all-important bling. We've just been informed that you will receive 2 flamboyant red strappz with any order over Fr. 20.- made by the end of February 2019! In addition, Brappz are giving knowitall.ch readers an extra something: read below to see what it is!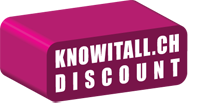 Add the code knowitall2019 in the discount section and you will automatically receive a free heart charm in addition to the 2 red straps with any order over Fr. 20.- made by the end of February 2019 (this will not show in the invoice).
Brappz
www.brappz.com