Know-it-all passport® is happy to announce a great opportunity for our creative community again! We are currently seeking vendors for our 5th edition of Know-it-all Marketplace that will showcase local* creative people who have a passion and love to share this passion. We can already count on some of our regular's such as Chocolat Madouce'Heure, Spice Angel savory jams, Lanxel candles, Sue's handmade greeting cards, Création Ose's decorative plates, Oh la Vache's amazing cow patterns, as well as many more. We can host between 50-65 vendors in our 250m2 space!
Even with Covid-19 as our new norm, we know that between masks, hand sanitizer, and social distancing, we will be able to maintain a fun and healthy environment. Planète Charmilles have informed us that there was an increase of sales in July this year compared to 2019... people are still buying and wanting to have a normal life. When we announced will be holding the shop this year, this is what one of our client's wrote to us: Thank you for the wonderful news that your creativity will bring joy and happiness again this year. And surely also the magic of Christmas, so thank you... it's a beautiful gift that you give us and your welcome is always so friendly and smiling.
Corinne from Création Ose wrote, "Thanks again for all the effort in organizing this again; I am delighted to relive these moments of sharing which each year are magnificent."
This 5th edition pop-up shop (temporary shop) will be held in Planète Charmilles, a central Geneva location, for the weeks leading up to Christmas. If you dabble in any of the following areas, or one that is not listed (even better) then please ask for an application form:
fabric items
mosaic
stained glass
painted furniture
painted items
paper items
metal items
handmade candles
ceramic
porcelain
perfume
jams
honey
jewelry
serving plates
soap
Christmas decorations
quilts
cards
local authors
leather items
items for men
upcycled items
etc.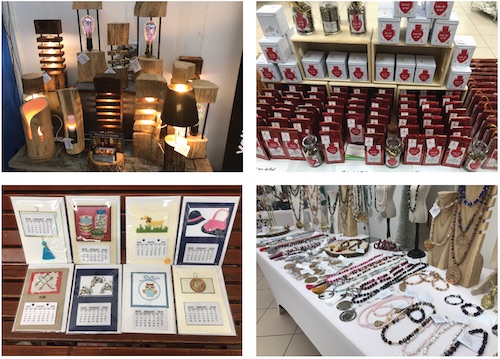 What's new this year?
After the tremendous success of last year's, we knew we couldn't hold back the enthusiasm from the vendors nor the clients to do it again. Many returning vendors now know what sells and what doesn't and are currently trying new ideas. Stay tuned!
The vendors that would like to host a live demonstration of their craft will be allowed to do so according to a schedule (jewelry-making, painting, sewing, soap-making, etc). We will also be hosting the occasional workshop for those that would like to learn a new technique.
Gift baskets will be assembled with various creators' items by theme, at varying prices, and beautifully wrapped and ready to go (see photo below).
How did it get started?
Lisa Cirieco-Ohlman, publisher of Know-it-all passport®, explains, "I have dabbled in Christmas markets for years selling various creations, and I know how hard it is when you have to pay for a table AND sell your wares all day. I thought there must be loads of creative locals wanting to be represented in a real shop space but not able to make that step. Providing a location to share is a great way to showcase a variety of styles ranging from sleek designed goods to handmade items. The shopping center boasts a well-trafficked area that will reach many more clients. Last year's vendors were enthused to test the market and get feedback as well as share their creations! Isn't that why we make things in the first place? To share? This is a fun way of being unified and supportive doing what we love… together we can make it work… the whole is greater than the sum of its parts!"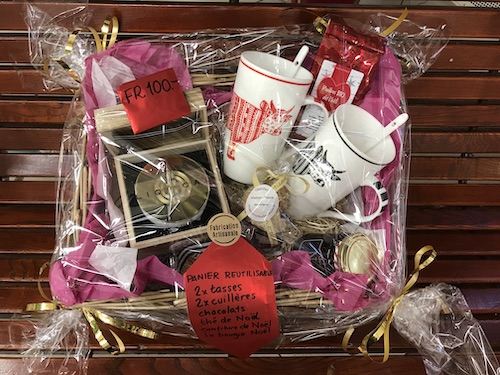 Example of a gift basket assembling different vendors' items
Cost
We won't be charging commission on any of your items and rental space will start at Fr. 130.-; which works out at Fr. 5.40/day for the lead up until Christmas! There are many options to choose from: shelves, tables, square meter, wall, etc. You leave your wares at set-up and then only need to help for the equivalent of one day. Details on application form.
Not only will your creations will be represented in the shop, but your link will appear on our website, be shown on the flyer, and be an integral part of the slide show that animates the shop during opening hours.
Apply
DO apply if you have had a say in the creative process yourself. We don't expect you to make your own wool/yarn (of course) but that you are the one who knitted the item! We want to talk to the artist who drew the illustration that was then professionally printed. Or the jewelry designer who beaded her own creations out of material that was purchased. We are not expecting you to press your own olives to produce soap either! If you have had a hand in the creative process, the design of an object, or the vision to have something produced with your idea, then we want to hear from you. Visit www.knowitall.ch/marketplace to request an application form. There is even a French-language page and you can request the application form in French (nous avons prevu la demande en français aussi)!
DO NOT apply if you are simply reselling items or imported goods... we want only local creators represented here.
* Applicants must live in Switzerland or neighboring France to qualify as "local".
Sponsoring
There are 4 different sponsoring opportunities available.
A slide show will rotate during opening hours with photos of each vendor alternating with short messages in French and English, and the sponsor's slides that may contain images, logos, short videos, or more. In addition, sponsors may have their logo printed on the flyer, and/or on the website, and/or leave their own flyers at the front desk. Details at this link.
Deadline for applications
We will be accepting applications till midnight, 30 September 2020, and our team will judge and make a decision rapidly. We won't be able to choose all of you and will be looking at how creative, how different, and what will sell best in the environment. A contract will then be sent to those selected at this point.
Location
Click on website link to access more information.
This is a very exciting venture for us and for you. If you know of anyone who would be interested, please forward this information.