Earlier this year knowitall.ch published an article about The STEAM Room at this link.
We couldn't resist doing another article as this online shop is offering a discount to knowitall.ch readers, see below!
We asked Gina to send in a few photos to put in this article and here is what she replied, "Well, as you can see, it is so difficult for me to choose just one photo. We now have nearly 200 toys and games and choosing a favorite is like choosing a favorite child. My personal favourite — hmmmm — that is a very tough question and one that I get asked a lot. Each one was chosen carefully, for specific reasons and one that I would want for my own child. With that said, I must say that the Easi-Scope Microscope (age 3 to adults… even school nurses use it to look for lice) and the Makey Makey are definitely favorites. The entire GoldieBlox line is also a huge winner with a price range of Fr. 18 to Fr. 75."
The price range (not including the education sets which can be in the thousands) is from Fr. 12 to Fr. 185. Products age range is from age 3 to adults. Families will enjoy the games that have multiple players. Boardgames are coming back in trend again and getting a hands on personal connection with others is an important bonding experience.
Gina explains what the logo for The STEAM Room stands for:
STEAM stands for science, technology, engineering, arts and mathematics. The five different colored squares represent each of the categories — red for science, orange for technology, green for engineering, blue for arts and purple for maths. On our web site, the toys and games are categorized:
Science, technology, engineering, maths
Language Development
Creativity
General Knowledge
Critical Thinking
Books
Classroom
Family Games
Gina imports from seven different countries: USA, Canada, UK, Germany, South Korea, France, and Belgium. Work with new designers, innovators and entrepreneurs from Switzerland's own EPFL has been initiated as well.
Gina proudly told us, "I think what makes The STEAM Room different is our particular selection of products. What I am really selling is all of the time and research it took to make these choices. Many of the products were the brain child of brilliant innovators at places like Stanford University, MIT Media Lab others created by a mom or a dad. Most of these products are not available elsewhere in Switzerland for several reasons, costs being one of them. In any case, there are millions of toys and games out there and unless one knows what they are looking for it is not easy to make wise choices. No one wants to spend money on well, junk. I wanted to make it easy for parents and teachers to find excellent, award winning products for the best prices possible, offering value for money. You will see that several teachers have offered testimonials. We are now in about eighteen schools across Switzerland. For over five years now I have been working with the same web designer and technology consultant. I make sure that wherever possible we include videos for products so that one can see exactly what they are getting. We are now in the process of finalizing our translations and the web site will soon be offered in French and German too. Also, whenever possible, we offer multilingual product instructions."
The STEAM Room: a Swiss based on-line shop
All toys, games and science kits in English
Multilingual products as well
Prompt delivery by Swiss Post (usually 2-3 business days)
VAT included in all prices
FREE shipping over Fr. 75.-
Award winning products sourced from all over the world
Most not available elsewhere in Switzerland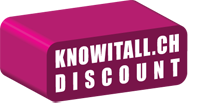 Always keen to share her passion for innovative toys and games, Gina is kindly offering knowitall.ch readers 10% discount on all products ordered through her website before 23 November 2018. What a great way to prepare for the Christmas and make sure your child is challenged throughout the holidays whilst still having fun!
Just enter the code kiaholiday18 when you make your order via the website. Don't forget there is free delivery on all orders of Fr. 75.- and above!
The STEAM Room
Gina Noonan
www.thesteamroom.com
This email address is being protected from spambots. You need JavaScript enabled to view it.
Telephone 079 757 84 80
NOTE: it is against our policy to put company logos in our articles but since we talk about the meaning behind this particular one, it is necessary to display it.