Spring can be such a wonderful time to walk in the mountains around Geneva. Late April and May are particularly special as the narcissus blooms provide spectacular scenery in the hills around Lake Geneva. The best way to view these flowers is to go on a hike so you can get into the thick of them.
Amie O'Shaughnessy, from the popular travel blog, Ciao Bambino, has kindly allowed us to republish a couple of suggestions for child-friendly walks, that enable you to see these blooms in their true glory - we hope you enjoy them!
Les Pléiades
For a very short walk with just a little bit of uphill, you can take the train from Vevey (from a special station just behind the main station) called the "Train des Etoiles" to Les Pléiades. At that point you can take a signed path towards the restaurant La Cha across from the station and will hit fields of flowers in the meadow, up the hill, and beyond. Or you can do a full loop to "Les Tenasses" and back up to Les Pléiades via Lally.
If you drive, I prefer starting from Les Motalles car park and doing the above mentioned loop the other direction. The trail starts at Les Tenasses" through an incredible meadow with all kinds of flowers. You follow the signs to La Cha restaurant again, but this time there is a steeper climb involved. It is still very doable with school age and up kids, but this hike is definitely not stroller or toddler friendly.
You can then grab lunch on either at La Cha or at the restaurant with a wonderful panoramic lake view at Les Pléiades. On the way home follow the sides to Lally and then take the road to Les Motalles. The entire loop is 5.40 km. It's a few-hour excursion with lunch.
In addition to the amazing flowers, the views from this loop on a clear day are spectacular. You can see both Mont Blanc and the Dents du Midi.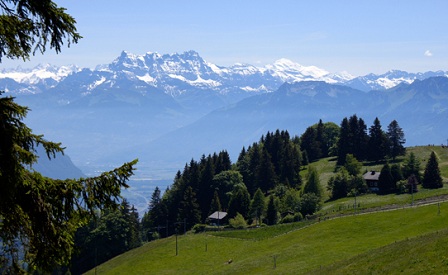 Les Avants
The other kid-friendly Narcissus hike is at Les Avants behind Montreux. Again, you can either choose a quick out and back to the flowers by going up the end of the trail directly to the meadows, or you can take the funicular train to Sonloup and do the full 5km loop trail which takes a few hours. The trail is school age and up ready, but not stroller or toddler friendly.You can also take the Goldenpass Train from Montreux to Les Avants instead of driving.
**
For both of these hikes, the trail is marked with wooden signs that have the flower on them. For more information on these areas and other activities, the Montreux Riviera website is a great resource for tours around Montreux and Vevey; the office speaks English and is happy to answer questions. You can email them on This email address is being protected from spambots. You need JavaScript enabled to view it..
Thanks again, Amie for sending us these suggestions. To read Any's original article in full and to see more photos from her article, please click here.