Free Fr. 50.- voucher for all knowitall.ch readers who rent a bouncy castle!

Parties seem to be all the rage at the moment, and while many of our readers are happy to use the services of websites like Partybooker.ch, featured recently on our site (link when article is published), others simply don't have the time to source entertainers and party suppliers themselves.
What they need is a company that will take on board all their party requirements, and put together a party package that is guaranteed to entertain their children and have their friends talking about it for months afterwards!
One business, which has over 20 years experience of organizing parties for kids and company events, and which is proving very popular with local families and businesses, is Party Time. Created in 1993 by mompreneur Linda Larini, Party Time has a wealth of expertise in organizing both small and large parties, and provides lots of fun services such as shows, bouncy castles, sumo suits, carnival games, clowns, magicians, decorations, arts and crafts workshops, and make-up stands, etc.
Linda prides herself on only providing the best entertainers for her clients. She has a team of about 15 artists, who take any party and turn it into a wonderful event, plus a number of younger helpers who have lots of experience at what they do. Party Time also provides delightful birthday and Christmas decorations adapted to any party environment.
Asked how she first got into the party entertainment business, Linda told knowitall.ch, "It was after holding my daughter's 6th birthday party that the idea started germing... I realised that I was very good at this kind of thing, and, importantly, that I enjoyed doing it!"
She continued, "At the beginning, Party Time was a one-woman show! I entertained the children, made the food and cakes and delivered and installed my own bouncy castles! I was quickly overwhelmed by demand and was joined by two of my closest friends – Carmen and Madeleine! José then came on board to take over the deliveries and installations. These three precious collaborators are still with me today and have been joined by lots of other equally talented entertainers such as Croky, Willow, and Luc Ginger, to name a few. My newest "recruit" is Menno – a particularly talented disc jockey who is great at kids discos but also weddings, 30th's, 40th's, 50th's..... I reckon he could get the French and English rugby teams up and dancing together!!"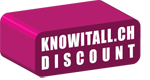 Thanks to Linda, knowitall.ch readers can now receive an impressive Fr. 50.- voucher for the rental of a bouncy castle. To claim your voucher, just mention this article on knowitall.ch when making your booking.
Linda Larini
Party Time
022 784 06 07
www.partytimekids.com