Sign up for one of Lisa's vintage plate jewelry workshops - or buy one of her hand-made bracelets here
Whilst everyone was moaning about the weather this summer, Lisa was laying the foundations for her latest creative venture - transforming broken plates into stunning, beautifully hand-crafted jewelry. With a few sample bracelets under her belt, she is now ready to launch her new vintage jewelry business, and invites you to share her love of jewelry-making by signing-up for one of her vintage plate jewelry workshops.
"Not only do antique plates look great with a beautiful slice of cake adorning them, but they look even better once broken and chipped", Lisa chirps as she speaks of her passion. "I started doing stained glass in 2007 and fell in love with it. The color and light that glass releases is so cheerful and fun. You can really let your imagination go wild." Many of her stained glass projects have other everyday objects incorporated to add another dimension, such as aluminum objects, watches, wood and shells, and of course antique plates. However, once the plates have been used, the remainder is usually trashed. Lisa is not one to throw out anything that could potentially serve a purpose, and one day decided to incorporate plate remnants into her jewelry.
Trial and error was overcome. She worked out how to cut the plates and sand them down to a smooth finish, how to adhere the plate pieces to metal, and how to make them all into a beautiful, meaningful object. The initial project was for herself - Lisa's first bracelet and matching necklace were born in February 2013 (photo above).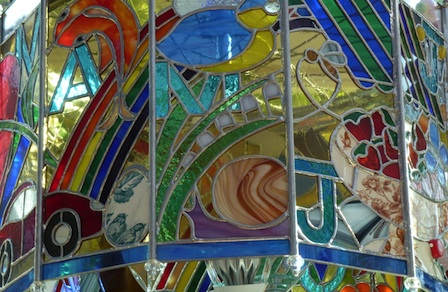 Lisa incorporated antique plates into this unique perpetual calendar lamp.
Lisa is a trained graphic designer, but in her spare time enjoys many other creative outlets, such as her Coffee and Creations Workshops that are held once a month at her home in Bellevue. Keen to share her passion for jewelry-making with her clients, she tried the vintage jewelry bracelet project on the group of ladies that came in April 2014, and it was a great success.
After opinions and comments from friends and passers-by, Lisa decided to make a few bracelets to sell this summer. 24 hours after finishing the first ones, she had already sold 3 of them to friends. One of these friends was at the museum washing her hands when a stranger noticed the bracelet and inquired how to get one for herself!

Vintage plates with beautiful designs make the most interesting bracelets. Old French, German, and English porcelain brands such as Sarreguemines, Luneville, Badenviller, Villeroy & Boch, and Mason proclaim a tiny piece of history every time they are worn.
CUSTOMIZED FOR YOU
Do you have a chipped plate that belonged to your grandmother? Or one from your wedding set that was unfortunately dropped? Or maybe you would like to present each lady/girl in your family with a heirloom piece? Just bring your plate to Lisa and she will carefully incorporate it into a unique piece of jewelry to make these memories everlasting! Click here to see samples of her work. Bracelets typically cost between Fr. 54.- and Fr. 70.- depending on the size of the bracelet and the number of charms added.

WORKSHOPS
Not only may you purchase one of these beauties, but you can make one yourself! Why not join others at one of the workshops and make a highly personalized piece? You can either choose from Lisa's large selection of plates or bring your own. You will find out how to cut and shape your plate pieces on a grinder. Additional beads and charms may be added to enhance the individuality of your piece.
The next workshops will take place in Bellevue, GE, from 12h-15h30 and include a light lunch.
Thursday, December 4th, 2014
or
Saturday, December 6th, 2014
Lisa can also organize a customized class for 4-5 participants in your home or in Bellevue if these dates don't work for you.
VINTAGE PLATE JEWELRY website
WORKSHOP page
Vintage Plate Jewelry
Lisa Cirieco-Ohlman
www.knowitall.ch/vintage
022 774 45 33