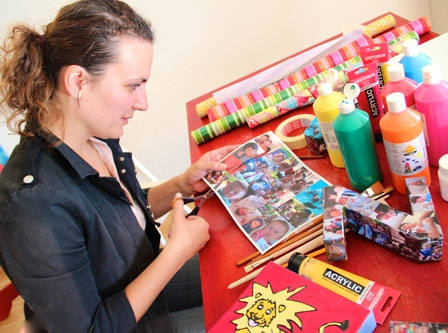 A new business has been set up in Lausanne, targeted at new and expecting parents looking for an outlet for their creative talents in a relaxing, sociable environment.
Atelier 3 Petits Points has been set up by three young mothers living in the region, Tamar Pachter, Jana Schreckenbach and Haruka Marufuji, and will provide a series of creative classes and workshops for parents wishing to make child-oriented products, whilst their babies remain with them.
The workshops will initially cover three main disciplines: sewing, painting and decoupage. Parents can choose to book 3, 5 or 6 sessions depending on the item they wish to make. Current options include a toy box, baby hangers, photo frame, 3D names, a changing bag, a "Carnet de santé" book cover, a bib and doudou set, and a crawling blanket.
Tamar told knowitall.ch, "The aim of our atelier is to create a cosy atmosphere where people can come and spend time with like-minded parents. Our workshops take into consideration the time required to create an item, attend to a child and enjoy a drink of tea or coffee."
Jana added "As stay-at-home moms ourselves, we understand only too well the needs of new and expecting mothers. We know that time with your baby is precious but we also know when having a baby, it is important to continue doing something for yourself. At Atelier 3 Petits Points, we want to give parents the opportunity to escape out of their baby-driven routine by offering workshops in arts & crafts, where they can bring along their child. Not only will they be proud of themselves for producing a unique, personalized item for their child, but they will have the chance to meet other parents or parents-to-be and exchange their experiences while having fun during the workshop."
Haruka concluded, "Having conducted our own market research, we believe we have come up with a unique business idea,where mothers can be creative and learn something new, whilst bringing their babies with them. We haven't found anything similar in Lausanne, where most combined activities for new parents tend to relate to health, such as post-natal education, baby gym, and yoga. We also have grandparents signing up with their grandchildren as well as people who want to make a personalized gift for their friends welcoming a child."
At the moment, although they accommodate the occasional older child, Atelier 3 Petits Points advises parents to bring along children who are not yet walking due to the restriction of space available inside the atelier, but in the long term, they aim to offer classes that parents and older children can attend together, as well as classes aimed solely at children.
Click here to view the full program of classes provided by Atelier 3 Petits Points.
Atelier 3 Petits Points
Avenue d'Echallens 13
1004 Lausanne
www.atelier3petitspoints.ch
This email address is being protected from spambots. You need JavaScript enabled to view it.
Jana: 077 475 0924 French/German/Czech/English
Tamar: 076 452 8413 English
Haruka: 078 618 2480 English