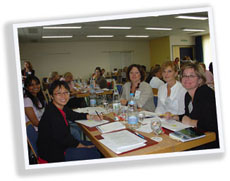 This valuable three-day workshop is a must for newcomers to the Lake Geneva region. It will provide you with an important connection to other newcomers and help smooth your transition to Switzerland. Topics cover Swiss history and culture, regional information, cultural differences, local activities and events, healthcare, transportation, driving laws, recycling, and much more. In addition, you will have fun, make new friends, and expand your social network.
Monday, 27 September—8h30 to 14h30
Tuesday, 28 September—9h to 16h
Wednesday, 29 September—9h to 13h
Course Benefits
Speakers and Discussions
Local experts share their knowledge and insights about topics most interesting to newcomers and expats.
Book: Living in Lausanne and the Canton of Vaud
The AIWC publishes a reference book which you will receive with the course. The book contains 200 pages of practical information, supplier lists, important contacts, food references, French translastions, and helpful tips about life in the Lake Geneva region—a CHF 30 value.
Break-out Sessions
You will have the opportunity to participate in break-out sessions where you will make friends, share experiences, and collaborate with others in a family-like situation.
Information Fair
You will have the chance to pick up brochures and talk to local business and service representatives.
Reserve your place now! Sign-up at
www.aiwc-lausanne.org
(alternatively you can turn-up on the day but must bring cash).
La Longeraie Hôtel et Centre de Congres
Route de la Longeraie
1110 Morges, Switzerland
Tel. 021 804 64 00
www.lalongeraie.ch