This winter leisure space welcomes the public on Quai Gustave-Ador between 18 January and 26 March 2023. Sports and wellness activities as well as musical entertainment are offered during the winter.
At La Banquise, three distinct areas are proposed: sports, wellness, and refreshment with a view of Lake Geneva to take your breath away!
The sports zone to discover Nordic sports
You can try axe throwing for free in 5 to 10 minute sessions, depending on the number of people and the waiting time, practice mattcurling, or discover the Finnish bowling game mölkky.
A wellness area, with saunas and massages
two wood-fired saunas
a relaxing area in a yurt
a massage yurt
showers fed by lake water
changing rooms with lockers
— Two identical wood-fired saunas, the Mont-Blanc and the Léman, each accommodate 4 people. Reservations: you have the possibility to reserve an individual place or to privatize one or both saunas by reserving all available places. Book a sauna in the Banquise Wellness Center online
You may enter with your bathing suit or according to the principle of nudity of the Nordic countries (covered with a cloth). Price: the price of the sauna is CHF 10.- per person and gives you access to the wellness area for 60 minutes.
— Relaxing area in the yurt: A traditional Mongolian yurt heated with a wood stove is dedicated to rest and relaxation. Access to the resting yurt is included in your 60-minute sauna session. It is recommended to rest the equivalent of the time spent in the sauna (between 6 and 15 minutes to be renewed) to let the body temperature come down.
— Massage yurt: A team of professional masseurs and masseuses offers you in the unique atmosphere of a traditional Mongolian yurt heated and equipped with wellness, ayurvedic, relaxing or Thai massages. Price: CHF 130.- per session. Reservations for massage sessions can be made online: Book a massage in the Espace bien-être de la Banquise
A refreshment area, with musical entertainment on Friday and Saturday nights
A foodtruck serves typical Canadian dishes as well as drinks to warm you up. A terrace with a view on the Jet d'eau is available! DJs will entertain the bar area on Friday and Saturday nights from 18h30-22h.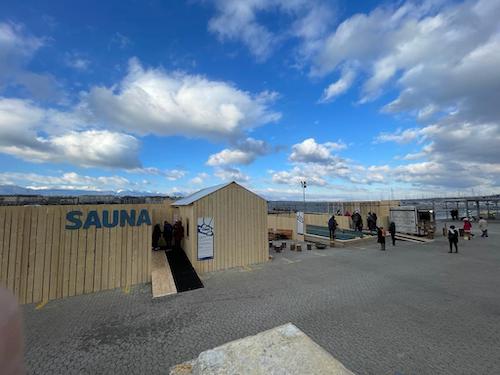 La Banquise
Quai Gustave-Ador 21
1207 Genève
https://www.geneve.ch/fr/banquise
La Banquise is closed on Mondays and Tuesdays.
Sports zone:
Wednesday: 14h to 19h
Thursday: 14h to 19h
Friday: 14h to 20h
Saturday: 11h to 20h
Sunday: 11h to 19h
Wellness zone:
Wednesday: 11h to 21h
Thursday: 11h to 21h
Friday: 11h to 23h
Saturday: 11h to 23h
Sunday: 11h to 19h
During the summer months, a canopy is installed for other events at this link.
Thanks to Tracey Tokuhama-Espinosa for the above photos!
© J. Gregorio / Ville de Genève